NEW! Spanish Senior Club Denia 50+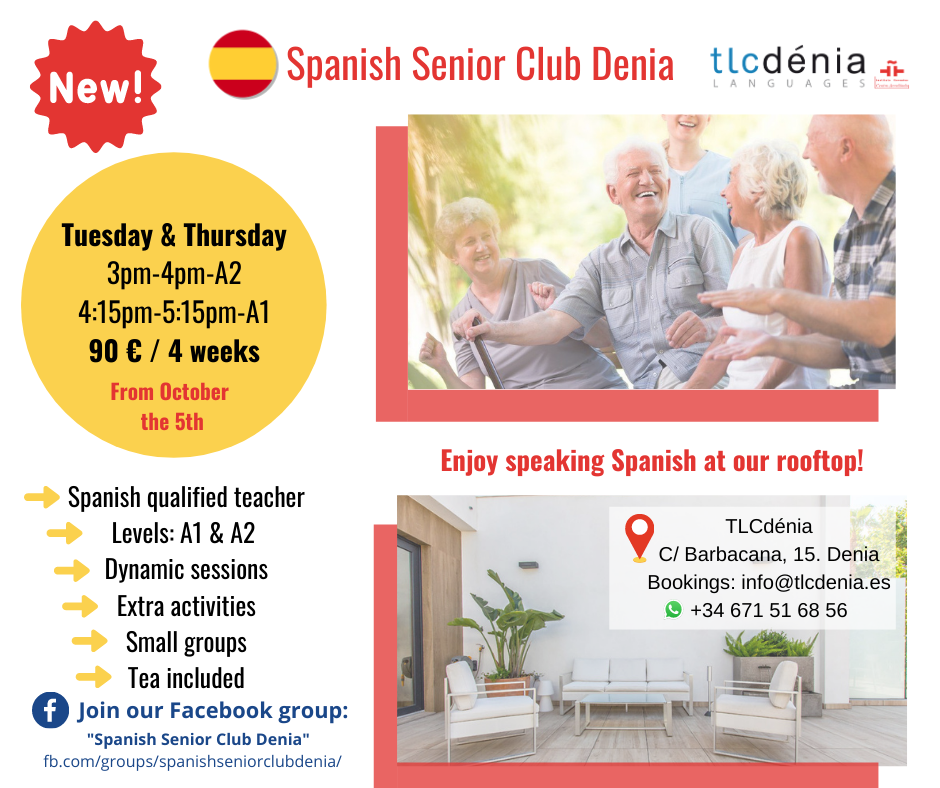 We have good news, we are launching the Spanish Senior Club Denia 50+ which consists of weekly meetings from October in small groups: minimum 3 participants and maximum 7.
It is an amazing opportunity to practice conversation in Spanish in an amazing environment at our school rooftop for 50+ age learners. Amazing chance to learn Spanish!
The sessions consist of dynamic conversation in Spanish with our experienced and qualified teachers. Each day the teachers will present different topics Spanish language and culture and Spain daily life. We will help you to communicate in Spanish.      
This is an opportunity to learn Spanish while having a good time meeting people and enjoying the sunny terrace if the weather allows it. When not, we will use a classroom.    
DESCRIPTION:
Schedule: Tuesday and Thursday: 3pm-4pm (A2 level) – 4:15pm-5:15pm (A1 level)
Starting date: Tuesday 6th October
Price: € 90 / 4 weeks 
Participants: minimum 3 and maximum 7 people.
INCLUDED:
-Tea during the sessions (soft drinks or coffee available for 0,50 €, other refreshments for 1€)
-Extra activities will be available for the members like gastronomy workshops, occasional cultural visits or yoga sessions.
– Books in Spanish on loan.
Members can book packages of 4 weeks from October to December.
Spanish Senior Club Denia registration:
Would you like to participate? Please, send us the next details to info@tlcdenia.es:
Full name:
Date of birth:
Nationality:
Telephone number:
Number of weeks:
Approximate level of Spanish:
E-mail address:
Join our Facebook page: https://www.facebook.com/tlcdeniaespanol/ and our Facebook group: https://www.facebook.com/groups/spanishseniorclubdenia  to keep up with our News!
We are looking forward to meeting you soon!