An Interview with Mari Carmen Timor: TLCdénia School Director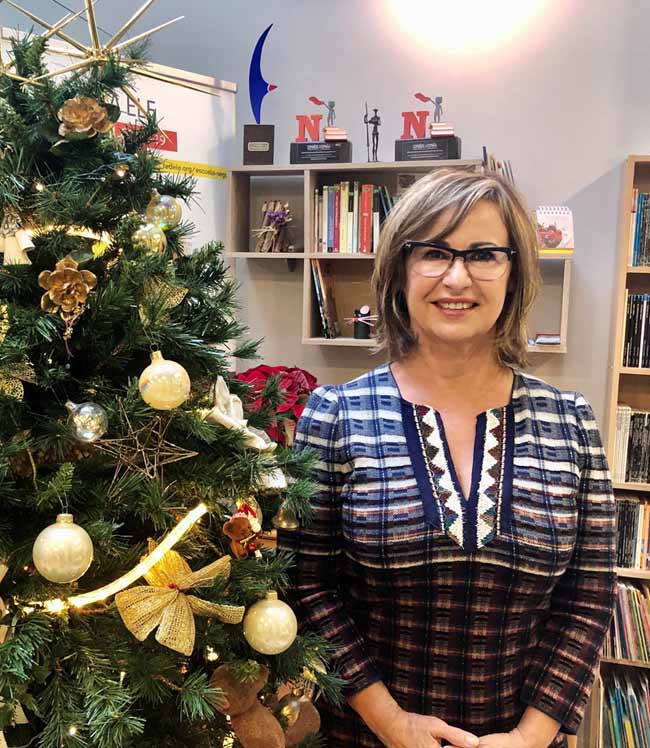 Mari Carmen Timor is the founder and director of the TLCdénia Spanish School located in Dénia (Alicante, Spain). She gives a brief insight into her role as President of FEDELE for 6 years and on the challenges facing the Spanish teaching sector and her school.
How have your years been as president of FEDELE? What are your thoughts on this time?
First of all, I would like to explain that FEDELE is the Spanish Federation of Associations of Schools of Spanish for Foreigners. It is made up of seven associations, which in their entirety include a hundred schools which teach Spanish as a foreign language and that promote travel to learn Spanish in Spain.
The main goal of FEDELE has been to promote the quality and professional status of companies within the Teaching of Spanish in Spain – our common purpose being to 'offer a quality linguistic and cultural immersion experience to students from all over the world'.
The centres that make up this federation are all accredited by the Cervantes Institute and we receive students from all over the world, especially from Europe, the US and Asia, who visit Spain to learn Spanish thanks to a 'cultural immersion'. During my time as president (2014-2020), my priority has been to work together with the management team to improve the processes of both the federation and the schools and their dialogue with all authorities, public and private institutions at the national and international level to develop a safe and professional industry throughout the value chain of tourism services.
Something of which I am especially proud is the improvement in the training of our Spanish teachers towards digitization – during this time of global emergency we have been able to carry out strategies that have served to sustain teaching activity and overcome many of the obstacles that the crisis of COVID19 has presented. One of our biggest accomplishments was the week of November 23 to 27 with the beginning of our new digital event La Semana Digital del Español – a great opportunity for Spanish centres, students and teachers from many parts of the world who will be able to make contact with our schools and continue with the learning process through the varied offer of courses available to them.
For the students it has been a great opportunity to learn Spanish without having to come to Spain thanks to the great variety of language and cultural training provided by the Spanish schools. If you missed the event, you can watch it here: Click here to watch La Semana Digital del Español on Youtube
For teachers, it has been an opportunity to learn new teaching techniques to improve their Spanish classes.
What challenges do Spanish schools have now?
Students wanting to learn Spanish will have the opportunity to travel to Spain again. We are going to continue promoting these trips because it is important to be able to live and appreciate the culture available in host cities. In the meantime we have new and innovative digital tools to complement face-to-face teaching.
Thanks to the training of our teachers, we can help students learn Spanish before coming to Spain and also after their trip, with online Spanish classes in their country.
The pandemic has made it clear how important it is to work together with all authorities, prescribers, universities, destinations and municipalities.
Now more than ever, schools, as well as host communities, need to build trust and offer safety to students and workers. We must guarantee that we have a well-structured management and framework with a guarantee throughout the value chain: transport, accommodation and recreational activities.
Language tourism is a subsector that is going to recover quickly because it is a mature sector and because the use of Spanish globally has a good projection with the increase in the Spanish-speaking population and the high number of existing students.
Why do you recommend learning Spanish?
Spanish is the second most spoken language in the world as a native language with 486 million natives, after Mandarin Chinese with 959 million. It is undoubtedly a very attractive language for students as it improves their professional training and their job prospects in Spain and Latin America and in their countries of origin. Studying Spanish in Spain ensures full linguistic and cultural immersion.
Where do you recommend studying Spanish in Spain?
I would recommend studying Spanish in Spain in a quality-guaranteed school like the ones who form our membership in FEDELE. It is a way of ensuring not only good teaching, but also the services they obtain at the centre and the experience that they will have at the destination. This combined package ensures successful learning.
What is it about Spain that is so attractive to foreign students?
Spain offers a very diverse range of experiences which vary dependent on the regions you visit. Its emblematic cities, the history and culture that is evident on every corner and its hospitable people that make visitors feel so welcome. Spain is a country of contrasts with a good climate and gastronomy that is difficult to match.
Why do students choose Denia as a destination to learn Spanish in Spain?
I am sure that the students who visit us always want to return and in fact many return to the school several times in their lives. When we ask them the reasons why they come to Dénia, they usually say that it is a very pleasant and safe city, surrounded by nature and with very welcoming people with whom to practice Spanish. Our host families as well as the teachers and staff at the school become your friends and you never feel alone.
In addition, we have a wonderful environment, nature, extensive beaches, and we enjoy internationally recognized gastronomy at a good price.
How is the TLCdénia school faring in this time of pandemic?
During the quarantine in Spain, the entire team and students who were at the school suffered greatly. Although we differentiated ourselves by being an innovative school and we already had the offer of online classes and state-of-the-art blackboards, we had to get to work and train very quickly to be able to serve all students from our homes.
During the time we were closed we offered very dynamic free workshops on the Spanish language and culture to make the time at home with the students more enjoyable.
What measures is TLCdénia taking to take care of the health of its students?
TLCdénia maintains strict sanitary measures required by the FEDELE protocol (Spanish Federation of Schools of Spanish as a Foreign Language) following the specifications of the ICTE (Institute for Spanish Tourist Quality) that has created sanitary quality standards to avoid contagion among staff, host families and students.
Hygiene is essential and for this reason, all the students and staff of the centre wash their hands with hydroalcoholic gel at the entrance and exit, a disinfection of the classes is carried out after each session and the school remains ventilated. All of us wear masks in the centre and each group takes breaks at different times to enable social distancing. In addition, we have facilities with windows and a well-equipped roof terrace with great natural ventilation.
Students feel calm and safe, in addition to the fact that in our city there are few cases of contagion. We do everything we can to ensure everyone's health.
At school we strictly follow the safety measures and guidelines in regard to distancing and hygiene without any problems. All the students who visit us feel comfortable and safe as they continue with their classes. Some are even extending their course.
What does TLCdénia expect for 2021?
We hope that in 2021 we will again receive students of Spanish from all over the world. We are working to improve our intensive Spanish programs for adults, the total immersion program in summer for juniors and the Spanish programme for families.
We really want to contribute all the value we have and make sure that students not only learn Spanish in Spain in 2021, but also have an experience that they will remember for a lifetime.
We believe that 2021 will be a better year and that, thanks to the new vaccine, students will travel safely.
In addition, in 2021 we will have renewed online Spanish classes, with new tools and content that will make the lessons much more interesting.
Do you want to give a message to your students?
I would like to thank all the students who have counted on TLCdénia to learn Spanish in Spain, especially those who, in 2020, have continued with us despite the circumstances.
I want to send a message of encouragement to everyone and say that the year 2021 will surely bring us very good times.
I wish you a Merry Christmas and a Happy 2021. It will be a different Christmas and that is why we hope you enjoy them with health and that you take good care of yourself.
I encourage you to come and study Spanish in Spain and live this wonderful experience!