The basis of our methodology is communication. Our objective is that the student will be able to use the new knowledge in the correct way. In view of this, as well as studying grammatical structures and linguistics, we stress the necessity of achieving communicative competence.
To reach these objectives the Centre has developed a methodology based on the functional use of the language and by the end of the course the student will have learnt, not only about the culture, but also about the social life offered in Spain.
Our methods for teaching Spanish courses to foreigners are structured for various levels depending on the requirements of the European Mark and the curriculum of The Cervantes Institute. Our objective is to give students the strategies and necessary know-how to cope in a Spanish environment by being able to communicate.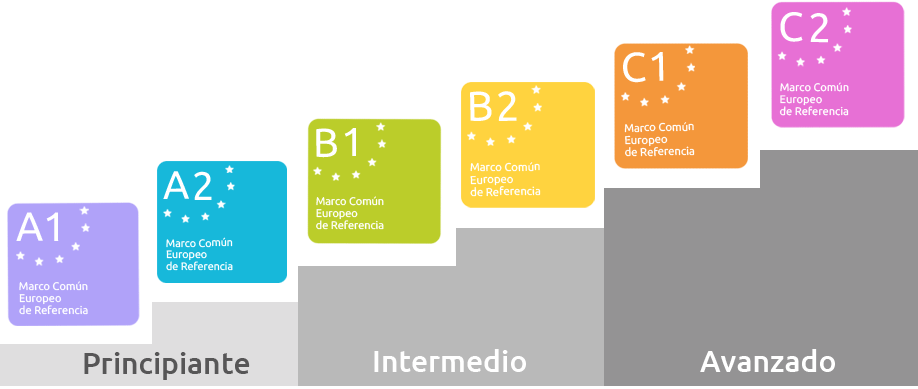 LEVELS (European mark)
TLCdénia COURSES
LESSONS
WEEKS
BEGINNER A1
A1.1
40
4
A1.2
40
ELEMENTARY A2
A2.1
60
6
A2.1
60
LOW INTERMEDIATE B1
B1.1
100
10
B1.2
100
UPPER INTERMEDIATE B2
B2.1
120
12
B2.2
120
ADVANCED C1
C1.1
140
14
C1.2
140
PROFICIENCY C2
C2.1
160
16
C2.2
160

SPANISH BEGINNERS A1:
Aimed at students who have no knowledge of Spanish or who simply know a few words and odd expressions. At the end of this course students will be able to communicate in both the present simple and present perfect and use very basic expressions.
4 weeks, 80 lessons
SPANISH ELEMENTARY A2:
Aimed at students who possess a certain degree of understanding of the language. At the end of the course students will be able to speak clearly, slowly, and directly in single everyday conversations. They will be able to express actions both in the past and future.
6 weeks, 120 lessons
SPANISH LOW INTERMEDIATE B1:
Aimed at students who can already use the correct structural form in the past, present and future. At the end of the course both their written and oral communication skills will be quite good in different situations. They will be able to understand and use the principal structures of Spanish and the subjunctive effectively. They will have acquired skills to converse including coherence, cohesion, connectors, negotiation, error correction, misunderstandings etc.
10 weeks, 200 lessons
SPANISH UPPER-INTERMEDIATE B2:
Aimed at students who can take part in discussions and speak fluently in a social conversation. The course objective is to allow students to develop skills to be able to do assessments, express wishes, hypothesize, give opinions and pass on messages. The students acquire a better understanding of the language and Spanish culture, participating both fluently and naturally in conversations.
12 weeks, 240 lessons
SPANISH ADVANCED C1:
Aimed at students who have an advanced level of Spanish. Upon completion of this course they are able to understand a wide variety of longer, more demanding texts and recognize the implied meaning within them. Students express themselves fluently and spontaneously without having to hesitate whilst obviously searching for the correct expressions to say. Moreover, they can make use of the language in a flexibly and effectively way in social, academic and professional environments, as well as produce clear, well-structured, detailed text on complex subjects.
14 weeks, 280 lessons
SPANISH PROFICIENCY C2:
Aimed at students who have a highly effective working knowledge of Spanish. The course objective is to allow students to acquire the necessary language skills to function in any situation with complete efficiency, showing a spontaneous ability to adapt to any context, with a high degree of accuracy. Upon completion of this course the student displays a seemingly native command of the language with exceptional fluidity.
16 weeks, 320 lessons