Become an ambassador and get discounts and benefits!

If you enjoyed your experience at school and in Dénia, share it with other students on social networks and get up to 15% discount for your next course. These are the options: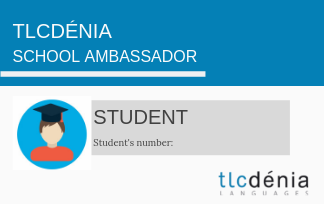 5% – SHARE ON SOCIAL NETWORKS:


Spread your opinion about TLCdénia on social networks and get a 5% discount on your next course:
1. Brief paragraph for the TLCdénia Blog with your experience about the school.
2. Review on Facebook: Enter the page @tlcdeniaespanol and go to "Reviews"
3. Review on Google: Search Google for "TLCdenia" to write a review
4. Opinion about your teacher in your profile at: tlcdeniaonline.com/teachers (Sign-up first here: Register at tlcdeniaonline.com )
5. Tag us on Instagram. Upload a picture of yourself in Denia and tag us (@tlcdenia) or upload a story on Instagram about Denia and tag us. You can also make a story from the school account and appear in the featured stories.
5% – YOUR VIDEO REVIEW:


Take a video of yourself talking about your experience and get a 5% discount on your next course:
If you are not very active in social networks, you can give us your opinion on video and get 5% in your next course. (Minimum 1 minute of video talking about your experience at school and Denia. In Spanish, in English or in your language. We will upload it on our social networks.)
5% – BRING A FRIEND:

Bring a new friend to book an intensive Spanish course and get an additional 5% discount on your next course. This friend cannot be a former student of TLCdénia.
ADVANTAGES OF BEING AN AMBASSADOR:
- Course discounts.
- One free online class if you book a 10/20 package of online Spanish lessons.
- Email us asking any doubts about Spanish and we will provide you with an explanation on the topic.
- Be part of the school and appear in the list of ambassadors in the school's website.
TERMS:
Requirements to be an ambassador and benefit from discounts:
- Having done at least one of the 3 options mentioned above.
- Discounts are cumulative up to 15%, maximum discount per student.
- The course reservation will be made via email through info@tlcdenia.es, including the word AMBASSADOR in the subject of the message.
- If you bring a friend, this must be a new student, and must not have previously enrolled in any of our programs.
- Discounts apply to a single reservation of the ambassador, after all requirements have been met.