If you really want to learn or improve your Spanish, allow yourself to be led by experienced professionals. In the Spanish courses in Spain for adults, our teachers will provide you with all the necessary contents for each level, they´ll give you learning tips and will also support you during your whole Spanish learning experience.
Throughout your Spanish learning, you can use different apps and online resources that will be very helpful but in the end, our recommendation would be to take a course with a teacher, either on-site: in the country of the language you´d like to learn, or with a private professor.
TLCdénia offers Spanish language courses in Spain for adults in the amazing destination of Denia, region of Valencia. Our city is very popular amongst adults who seek to learn Spanish while they relax on the beach, enjoy a beautiful weather, a great gastronomy and natural landscapes.
Denia is the perfect destination for those professionals who wish to take a Spanish course in addition to disconnect from work during their holidays. Don't wait any longer and come and study Spanish in Spain!
our spanish courses in spain for adults:
Book your spot in one of our courses. Learn Spanish in a quality school!
SPANISH LANGUAGE COURSES IN SPAIN FOR ADULTS:
YOU CAN LEARN SPANISH AT ANY AGE!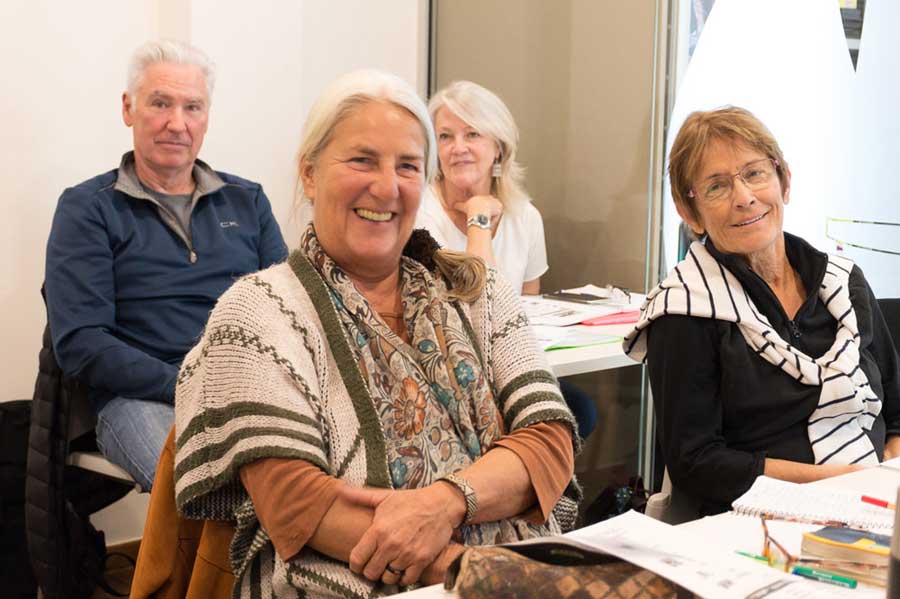 Learning a new language is possible at any age. Older students are sometimes fearful of engaging in Spanish courses because they think they´re not going to be able to keep up with the pace of the class. In TLCdénia we hold intensive courses for students of different ages, and all of them learn Spanish! The Spanish courses in Spain for adults are very dynamic and are adapted to suit all ages. These are intensive courses where you can practice every skill of the Spanish language: writing, reading, listening… and the most important, the speaking. Through these courses, role play games are carried out in order to practice everyday situations, always suited to each level. The method we follow during the Spanish courses is the communicative method. These are the features of the communicative method:
It is a functional method with which the student is capable of using the language on its different necessary daily functions such as ordering at a restaurant, go to the doctor, do the grocery shopping, etc.

Communicative activities are essential. We emphasize the communication in the foreign language throughout interaction: theory is put into practice during oral interactive exercises.

This methodology introduces real texts in learning situations.
It also offers the students the opportunity to think about the learning process and not only about the language itself.
It emphasizes the importance of student´s personal experiences as contributing elements of the learning process in class.
The method tries to relate the learnt contents to activities that take place out of the class.
Students have an approach to the most colloquial side of the language. Teachers show a language adapted to the reality of the speakers.
Book your spot in one of our courses. Learn Spanish in a quality school!
TYPES OF SPANISH LANGUAGE COURSES FOR ADULTS IN DENIA, SPAIN
This course consists of 20 lessons per week: 4 lessons of 45 minutes per day, from Monday to Friday. The course usually takes place from 9:30 to 12:45, although there might be some weeks with a slightly different schedule, but always during the morning or early afternoon. In the course you will cover all disciplines: listening, writing, reading and definitely speaking skills. There is a maximum of 12 students per class but at the moment the average is 6 students.
Consists of 30 lessons per week: 4 lessons in a group + 2 extra lessons in which every student works on his needs and specific topics. During the 2 extra lessons, there might be students from different groups and they´re usually based on grammar. The schedule is usually 9:30 to 12:45 (Spanish intensive 20) + 13:00-14:30 (extra lessons). 
(Intensive 20 + 1 private lesson per day). The first part of this course comprises 20 lessons (intensive 20) where you work in groups all the Spanish language skills: listening, writing, reading and definitely speaking skills. This gives you the chance to be in a group during the first part and taking a private lesson to work on your personal needs, specific goals or to keep up with more Spanish practice: conversation, grammar or revision.
goals OF SPANISH COURSES in spain FOR ADULTS in denia
With our intensive Spanish courses, you will learn faster than with a two days per week course. Attending classes every day will increase your learning process during your stay in Spain. If you are a complete beginner, you can start your course with us. We offer Spanish courses for beginners starting every two weeks. Throughout our years of experience, at TLCdénia we´ve had many students who started studying Spanish from scratch and achieved great results in a short space of time. This is the duration of every level:
WHAT SPANISH LEVEL DO I NEED IF…?
… I WANT TO LIVE IN SPAIN
Lots of foreigners decide to move and set their residence in Spain. In order to adapt to the new country, our recommendation is to achieve an intermediate level B1 at least. At this level you will be able to manage daily situations: go to the bank, supermarket, purchase services, and other needed everyday situations.
…I WANT TO TRAVEL TO A SPANISH-SPEAKING COUNTRY
If you want to travel abroad and enjoy the Spanish-speaking countries, we recommend at least an A2 or a B1 level. It depends on the interaction you intend to stablish with local people, but you will always learn more about their culture and traditions by talking to natives.
… I WANT TO WORK IN SPAIN
In order to work in Spain, most of the positions require a Spanish B2 level, but it will always depend on the type of work. Some jobs require at least an advanced level C1.
…I WANT TO LEARN SPANISH FOR THE PLEASURE OF LEARNING
Many students learn Spanish for the pleasure of learning, because they like Spanish culture or because they have a second home in a Spanish-speaking country. In this case, students tend to learn the language until they feel comfortable enough speaking, and always as long as they accomplish their goals (usually social). Some of them decide to stop at the end of B1 level, while others finish B2 or even aim to achieve an official certificate (DELE, Diplomas in Spanish as a Foreign Language).
Contact us! We will be happy to help you.
HAVE FUN AFTER YOUR SPANISH COURSE!
In TLCdénia we organize activities for students to practice Spanish after the courses. In our Spanish courses in Spain for adults we include activities that might help you practice and meet students from different groups. These activities change weekly. These are some of our activities meant for adults:
Gastronomic activities for adults: tapa tours, wine tasting, cooking workshops… We cook paella or tortilla de patatas. We also prepare sangría, agua de Valencia, etc.
Conversation sessions: we also offer extra conversation sessions after class so you can keep on practicing your Spanish.
Linguistic workshops where more specific topics of the language are studied in depth, or cultural workshops where we talk about Spanish traditions, cinema, music, celebrations, etc.
Yoga class. We also do yoga before the class.
Cultural visits to the castle, fish market or Denia´s museums.
During the summer months, we organize different activities such as catamaran rides, or trips to nearby cities: Valencia, Jávea, Guadalest or Fonts de l´Algar. Learn more about our activities here: Seize this opportunity and do one of our Spanish courses in Spain for adults and you will be able to speak Spanish!