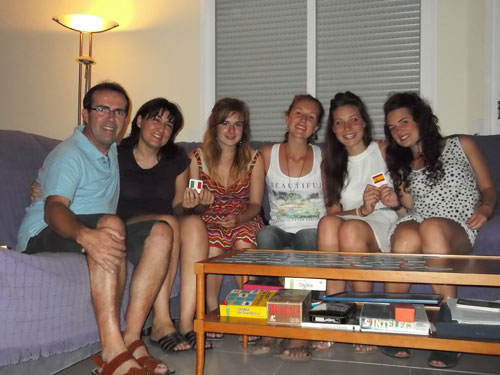 Living with a family can be very interesting to get to know the Spanish way of life. It allows you ithin the home, the customs, the food, ways of enjoying yourself and, above all, you can practice Spanish out of the classroom. You are just another member of the family.
WHAT IS OFFERED IN THE HOSTFAMILY:
- Accommodation 5-15 minutes walk from the school. We have a large number of trusted and experienced families who live very close to the school.
- Single and double rooms. Adults can share a room if they come with family or friends.
- Accommodation half board or full board. Half-board accommodation includes lunch and dinner and full-board accommodation includes breakfast, lunch and dinner.
It is not necessary to bring your own towels for the bathroom, but if you need towels at the beach, please bring your own. There will be bed linen in the apartment, too.
See the pictures of the Homestays for students.
Homestay (price per person)
Spanish guest family
Half Board
Full Board
Duration
1 week
Extra day
1 week
Extra day
Spanish family
(single room)
195 €
35 €
225 €
40 €
Spanish family
(double room)
175 €
30 €
200 €
35 €
In homestay you may find new customs different from your own. These customs can change from one country to another and from one host to another. We recommend you to be open and to enjoy the experience.

OTHER OPTIONS OF ACCOMMODATION:
Shared flat
Private city appartment
Private city appartment beach
Hostel