If you travell to Spain you first have to be able to understand the staff at the airport. Here you'll find some useful vocabulary.
VOCABULARY TO COMMUNICATE AT THE AIRPORT: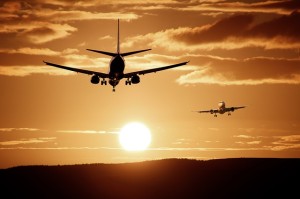 VOCABULARY:
Aeropuerto - Airport
Avión - Plane
Compañía aérea - Airline
Pasillo - Aisle
Fila - Row
Asiento - Seat
Equipaje - Baggage
Equipaje de mano - Carry-on luggage
Reclamo de equipaje - Baggage claim
Exceso de equipaje - Excess baggage
Registración - Check-in
Tarjeta de embarque - Boarding pass
Número de vuelo - Flight number
Pasaporte - Passport
Puerta - Gate
Demorado - Delayed
Llegadas - Arrivals
Salidas - Departures
Destino - Destination
Conexión - Connecting flight
Vuelo de cabotaje - Domestic flight
Vuelo internacional - International flight
Vuelo directo - Non-stop flight
En horario - On schedule
Sala de espera - Departure lounge
Sanitarios - Restrooms
Salida de emergencia - Emergency exit
Pasajero - Passenger
Control de seguridad - Security check
Auxiliar de vuelo - Steward
Azafata - Stewardess
Escala - Stopover
Despegue - Takeoff
Embarcar - to board
Despegar - to take off
Aterrizar - to land
USEFUL PHRASES:
¿Tiene su tarjeta de embarque? - Do you have your boarding pass?
¿Puedo ver su pasaporte, por favor? - Can I see your passport, please?
¿Ha dejado su equipaje en algún momento solo? - Have you left your luggage unattended at any time?
Sólo está permitido un artículo de mano. - Only one carry-on item is allowed.
¿Puede decirme dónde está la puerta de salida? - Can you tell me where the departure gate is?
¿En que puerta sale el vuelo para Denia? - Which gate is the flight to London leaving from?
El vuelo está cancelado/ retrasado. - The flight is cancelled/ delayed.
He perdido mi equipaje. - I've lost my baggage.
¿A qué hora está previsto el avión para despegar? - What time is the plane scheduled to take off?