The following vocabulary will help you to make reservations or communicate in a hotel in Spanish.
VOCABULARY TO MAKE A RESERVATION IN A SPANISH HOTEL: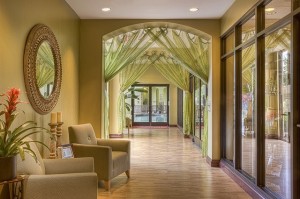 VOCABULARY:
Reserva - Reservation
Recepción - Reception
Vestíbulo - Lobby
Pensión completa - Full board
Media pensión - Half board
Habitaciones libres - Vacancies
Habitación individual/ doble - Single/ double room
Registrarse - to check in
Quedarse - to stay
USEFUL PHRASES IN SPANISH:
Tengo una reserva - I have a reservation.
Quiero una habitación - I would like a room for the night.
¿Cuánto cuesta una habitación para dos personas? - How much is a room for two people?
¿Hay habitaciones disponibles? - Are there any rooms available?
¿Cuánto tiempo va a quedarse? - How long will you be staying?
¿A qué hora sirven el desayuno? - What time is breakfast served?
¿Hay aparcamiento? - Is there parking?
¿Puede llamar un taxi, por favor? - Can you please call me a taxi?
Por favor, no molestar. - Please do not disturb.