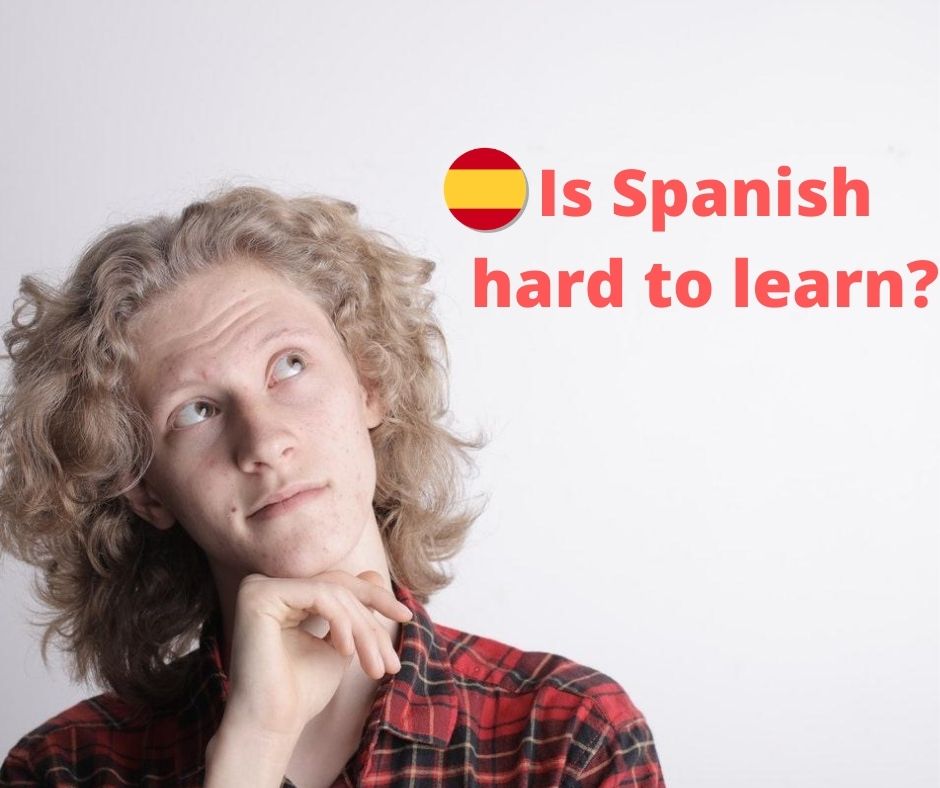 Is Spanish hard to learn?
Learning Spanish is becoming more and more popular around the world. Millions of students are embarking on the adventure of learning this wonderful language. Globally, it is the second most widely spoken language, and its reach is continuously expanding. There are many good reasons to learn Spanish, it could be for professional or personal reasons, for pleasure or simply because you would like to travel and explore the wide variety of Hispanic countries.
Spanish is a language spoken by almost 580 million people in the world and has 483 million native speakers. This makes it the second biggest language with the most speakers. In addition, it is the third most used language on the Internet, after English and Chinese.
Before starting to study Spanish, many people wonder, "Is Spanish difficult to learn?"
As with any subject, whether something is complicated or not depends on the person learning it. In general, Spanish is not a difficult language to learn, but naturally there are certain grammar topics and areas that can be complicated.
Below, we will outline some of these topics and we will also give you recommendations on how to improve them: 
Learn the 'subjuntivo' in Spanish
The 'subjuntivo' is a very special characteristic of Spanish that many students find difficult. It does not exist in most other languages ​​and it also has many uses.
We suggest that you learn it little by little, that you pay close attention to each example you see with a subjunctive and that you separate them by uses. Don't try to learn it all at once, take your time, but at the same time, try to incorporate it into your Spanish from the first day you study it.
The difference between 'ser' and 'estar'
In Spanish we have two verbs: 'ser' and 'estar' to say 'to be' in English. This is difficult for many students learning Spanish to grasp.
Our first piece of advice is to open your mind and do not translate literally from your own mother tongue.
We recommend that you learn the most common uses first and then study other cases (such as adjectives with a change of meaning depending on whether they are used with ser or with estar).
If you want more information about ser and estar, read our article on 'How to use ser y estar in Spanish"
How to use 'por' y 'para' in Spanish
Spanish students often confuse the prepositions 'por' and 'para'. Choosing the right one is not easy, especially if you use them differently in your mother tongue. For example, 'to' and 'for' in English are not used in the same way as 'por y para' in Spanish.
Look at the following image to help you learn these prepositions and remember its uses:
The pronunciation of some sounds in Spanish: rr, g, j and c
The 'rr', 'g', 'j' and 'c' sounds can be complicated for some Spanish students as they do not exist in their mother tongue so they feel unusual when not used to using them. If you can't pronounce them well, don't worry because this won't interfere with your ability to communicate and native speakers will understand you anyway. Keep practicing and in time you will get better results.
The level of difficulty experienced in learning Spanish also depends on the student's country of origin. As a general rule, a European learns Spanish faster than someone from Asia. The intonation of Spanish is quite flat and is not always easy for Asian students to assimilate.
Understanding Spanish or Hispanic speakers
Many students say that the biggest challenge for them is understanding Spanish speakers because, they say, we speak very quickly. Depending on the area you go to in Spain, or Latin America, you will find different accents, intonations, and rhythms. In Dénia, for example, the Spanish we speak is quite neutral, we do not have a very strong accent and are not difficult to understand. Even if you go to another place to learn Spanish you will soon get used to it and should progress without too many problems. All variants of the Spanish language are equally valid, it is just a question of getting used to them.
If you are starting to learn Spanish, you don't need to understand everything a native speaker says, it is enough to understand the context of a conversation. If a native speaker is speaking to you and you don't understand ask them to repeat it more slowly or in a simpler or different way. In general, Hispanic people are very friendly and will not mind repeating or explaining the phrase to you several times.
In Spanish we have many ways of saying the same thing
Spanish is a language very rich in vocabulary and expressions. You can find a thousand ways to say the same thing. This makes it a very varied language, but it can make learning a bit difficult.
Understand the double meaning
Spaniards are known to have a good sense of humour and for this reason the double meaning and irony are an important part of the language, it is part of our culture. For a student of Spanish, it can be difficult to understand this double meaning in some situations.
As in other languages, in Spanish we have so-called 'false friends' which are words that may look or sound similar between two languages, but which mean completely different things. For example, in Spanish 'carpeta' is an object for storing papers, in English 'carpet' is a fabric that is placed on the floor (in Spanish 'alfombra').
When it comes to learning Spanish, writing can be difficult. Writing in any language is driven by reading. Our biggest tip is to 'read, read and then read some more' in Spanish. We learn by imitation, so if you want to write well, you can learn a lot from reading good writers.
Use lots of connectors, learn varied vocabulary, and use synonyms for words. Learn new adjectives to enrich your descriptions. With these elements your writing will become stronger and more confident.
Colloquial expressions in Spanish
When you are at a high level of Spanish, you start to come across many idiomatic expressions. Our language is very rich in expressions, we love them!
We advise you to learn the expressions in the context for which they are intended, and make sure they are still in use – many old expressions continue to appear in Spanish textbooks but are no longer used by speakers.
In our blog, we have published some expressions:
Colloquial expressions in Spanish
Expressions with colours in Spanish
Expressions with animals in Spanish
Learning Spanish is a long but rewarding road. It is great fun as long as you are patient and embrace it. At TLCdénia our students have a great time in the classes. We use a variety of dynamic and interactive tasks and exercises to make learning stimulating, fun and rewarding. Our teachers are highly experienced and specialize in making the challenge of learning Spanish seem easy.
Take heart with your Spanish!