How to use "ser" and "estar" in Spanish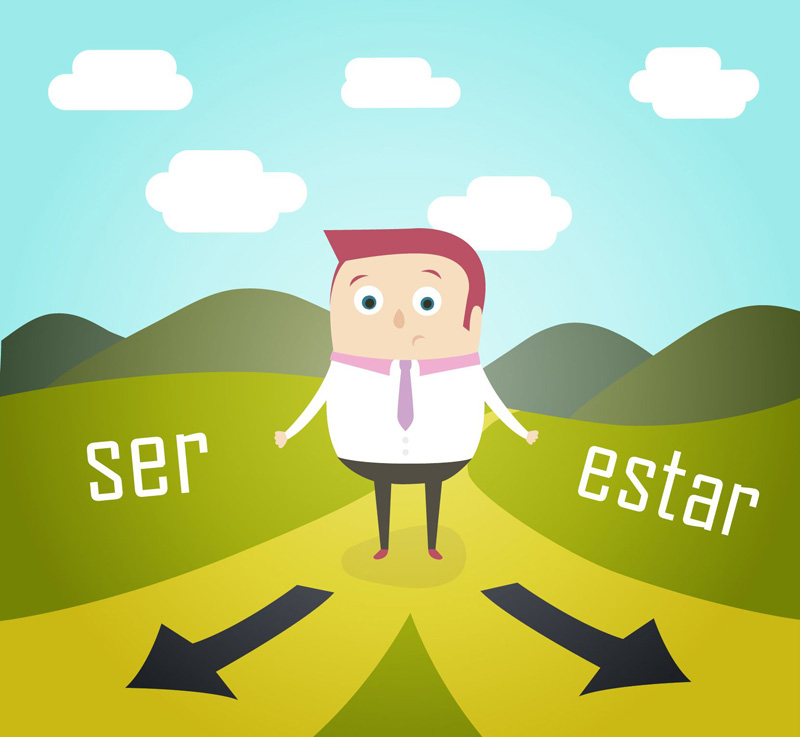 If you are learning Spanish, maybe you might are surprisedto learn about the existence of the verbs 'ser' and 'estar' in Spanish because there is only one verb in your language. Here we give you some general information about the difference between these two verbs in Spanish. 
THE DIFFERENT USES OF THE VERB "SER"
NAME / ORIGIN OR NATIONALITY AND PROFESSION
Soy Andrea, soy española y soy de Denia.
RELIGION
Yo no soy cristiana, soy atea.

DEFINITIONS

La amistad es un sentimiento.

DESCRIPTIONS

El perro es blanco.

TELL THE TIME

Son las siete y diez.

DATES

Hoy es miércoles 15 de marzo.

DESCRIBE MATERIAL

La mesa es de madera.

OWNERSHIP

Los libros son míos.

PRICE

Son veinte euros.

PASSIVE VOICE

La canción 'Imagine' fue compuesta por Jonh Lennon.
ADJECTIVES THAT ONLY GO WITH "SER"
Absurdo (absurd)
Asequible (affordable)
Comprensible / incomprensible (comprehensible / incomprehensible)
Fiel / infiel (faithful / unfaithful)
Posible / imposible (possible / impossible)
Probable / improbable
Importante (important)
Imprescindible (essential)
Inteligente (inteligent)
Lógico (logical)
Necesario / innecesario (necessary / unnecessary)
Obvio (obvious)



USES OF THE VERB "ESTAR""
LOCATION

Dénia está* en España.
(*Excepción: situar un evento: ¿dónde es el cumpleaños?)

TO BE PRESENT

¿Estás en casa?

TO BE READY

¿Cuándo estarán los resultados de las pruebas médicas?

ESTAR + GERUND

Estoy aprendiendo español.
ADJECTIVES WHICH ONLY GO WITH ESTAR
Contento (content)
Cansado (tired)
Deprimido (depressed)
De buen/mal humor (in a good / bad mood)
Embarazada (pregnant)
Enfadado (angry)
Enfermo (ill)
Harto (fed up)
Interesado en algo (interested in something)
Muerto / vivo (dead / alive)
Preocupado por algo (worried about something)
Roto (broken)

ADJETIVES THAT CAN GO WITH "SER" AND WITH "ESTAR"
To consider something as permanent or temporary:
SER- description of personal or permanent qualities. Example: Andrea es muy guapa.
ESTAR- description of temporary characteristics. Example: Hoy Andrea está muy guapa.
Some adjectives like this are: guapo / feo (good looking / ugly), grande / pequeño (big / small), limpio / sucio (clean / dirty), tonto (silly), soltero / casado (single / married), viudo (widowed), divorciado (divorced), ciego (blind), sordo (deaf), mudo (mute), cojo (lame), manco (one handed).
ADJECTIVES WHOSE MEANING CHANGES DEPENDING IF IT IS WITH ESTAR OR SER
BUENO (GOOD)
Ser bueno: una persona honesta (an honest person) / una cosa de buena calidad (a good quality ítem)
Estar bueno: una comida con buen sabor (food that tastes good) / persona sana (a healthy person)/ persona atractiva (an attractive person)
MALO (BAD)
Ser malo: una persona deshonesta (a dishonest person) / una cosa de mala calidad (a bad quality ítem)
Estar malo: una comida con mal sabor (food that doesn´t taste good) / persona enferma (a person who is ill)
BIEN / MAL (GOOD/BAD)
Ser bien / ser mal (this is not correct)
Estar bien: to feel good /action which is correct
Estar mal: to feel bad/ action which is not correct
VERDE (GREEN)
Ser verde: The color green
Estar verde: fruta, verdura que no está madura (a fruit or vegetable which is not mature) / persona inexperta (novice)
NEGRO (BLACK)
Ser negro: people or things that are the color black
Estar negro: estar muy bronceado (to be very tanned) / estar enfadado (to be angry)
CLARO (CLEAR)
Ser claro: tono claro (a clear tone), luminoso (luminous)
Estar claro: evidente (evidente/obvious)
ATENTO (ATTENTIVE)
Ser atento: ser detallista (to be thoughtful)
Estar atento: prestar atención (pay attention)
ORGULLOSO (PROUD)
Ser orgulloso: persona soberbia (a proud person/arrogant)
Estar orgulloso: sentirse contento de los logros (be proud of your achievements)
DELICADO (DELICATE)
Ser delicado: frágil (fragile)
Estar delicado: salud frágil (fragile health)
ABIERTO (OPEN)
Ser abierto: extrovertido (extroverted)
Estar abierto: no estar cerrado (not closed)
Hopefully this explanation helped you.
Do you understand better now how to use "ser" and "estar" in Spanish?