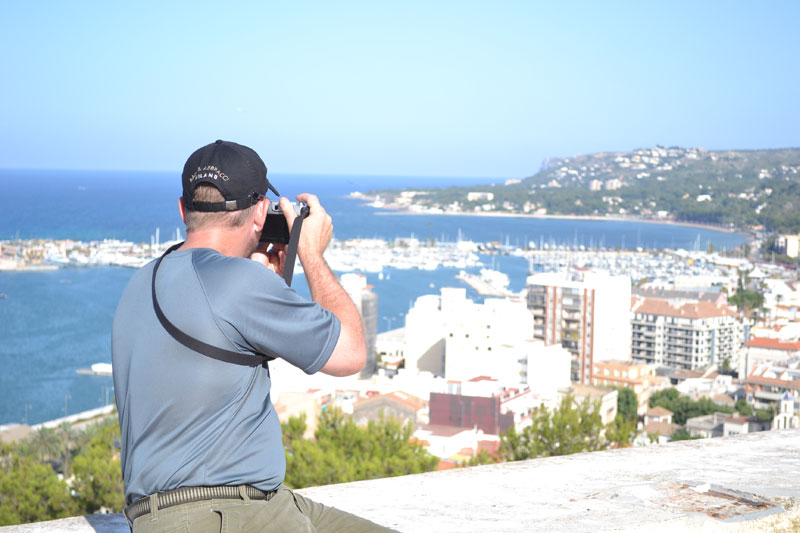 Learn Spanish while having fun: what to do in Dénia
Dénia is an unparalleled charming city which makes all who visit it fall in love with it. If you are going to learn Spanish in Dénia, you´re lucky because there are lots of activities to do to enjoy your spare time after your Spanish course.
If you decide to do a Spanish course in Dénia, you will enjoy everything the city has to offer. We´d like to share with you a list of recommendations about what to do in Dénia, our wonderful city.
We hope you like them as much as we do!
Climb to the castle and enjoy its beautiful sights
Dénia holds a very rich history in which various populations, especially Romans, Muslims and Christians, left an important cultural and patrimonial legacy. Amongst this heritage you can find the castle, the main monument that frames the city centre. This monument is a mandatory place of tour after your Spanish course. TLCdénia offers regular visits to the castle for their students. There is a small archaeological museum where you can find some relics of the city.
The castle was built by the Muslims between 9th and 13th centuries. It was one of the main elements defining the historic topography of the urban development of the city.
At the castle of Dénia, you will enjoy the beautiful views of the city, the sea and the mountain.
Do not miss out!
An unforgettable walk during the sunset around "Les Rotes"
"Les Rotes" is a rocky beach area where you can take a swim or practice snorkel while you enjoy the clarity of its crystal waters.
Apart from a swim in "Les Rotes", we also recommend a walk during the sunset. There is nothing better than gazing at the colours of the sky during the orange hour, especially in this beautiful coastal spot.
Another option is doing a little excursion, heading to the end of "Les Rotes", where you will find "La Torre del Gerro", a defensive tower which dates back to the 16th century.
Have breakfast by the sea
Can you imagine having breakfast by the sea? In Dénia there are amazing spots where you can have a whole breakfast to start a good day. In la Marina de Dénia you´ll find several restaurants offering varied breakfasts, such as: "Mala Vita", which offers breakfast options for every taste next to the sea.
If you fancy having a buffet breakfast on a charming terrace, you can go to "Hotel Nou Romá" where they offer a variety you will surely love.
Is there a better way to start your day?
Go shopping on "Marqués de Campo" street
"Marqués de Campo" street is the heart of the city. It´s a beautiful street with a gorgeous embellishment of trees (poplars) which add a green and fresh touch to the city. There you can find shops and restaurants and, on your way, you can visit the main harbour. It´s a very lively street with people taking a walk or having a drink at the terraces.
Buy fresh products at the Municipal Market
One of the treasures of Spanish cities are their municipal markets, which attempt to protect the local markets and the proximity products: fruit and vegetables from nearby orchards or quality meat and fish.
We suggest you to visit this place and buy typical Mediterranean cuisine products. You will taste good food, support local commerce and to top it all off, you will experience the intense activity of the market, where Dénia´s locals will help you in a friendly and close way.
In the fishing port, fishing boats arrive every afternoon, around 5PM. You can see how they dock, unload and do the fish auction. Later, the fish market opens and you can buy recent caught pieces.
You won´t find a fresher fish!
Feel the adrenaline by practising water sports. Dénia offers a wide variety of options: Windsurf, Kitesurf, Paddlesurf, Jet Sky, Parasailing, Kayak, Snorkel… and so much more!
There are lots of companies dedicated to sea adventure activities. If you´re passionate about the sea and water sports, do not miss the chance and practise water sports in Dénia. Take the opportunity and do some sport after your Spanish course.
What about losing yourself in the sea and escaping from your routine? You can rent a boat and embark on an exciting journey around the coast. You will enjoy the beautiful coastline Dénia holds, its Marine Reserve and San Antonio Cape.
If you´d like a cheaper option, you can also enjoy one of the boat trips some companies such as Mundomarino or Náutica Pérez offer.
Enjoy a meal at the Creative Gastronomy City by UNESCO
Are you a food lover? Then Dénia is the right place for you, since it was recognized as the gastronomic capital of de Mediterranean by UNESCO in 2015.
In Dénia, our restaurants combine the tradition of the Mediterranean cuisine with innovation. You can go to very prestigious restaurants such as Quique Dacosta (with 3 michelin stars) or signature cuisine restaurants like "El Baret de Miquel" (we strongly recommend to book in advance for there is a long waiting list).
Furthermore, you will find many restaurants offering good "tapas" at Loreto Street or in the gastronomic market "Magazinos".
Take a stroll around the old fishing neighbourhood at Baix la Mar
Baix la Mar neighbourhood is an ancient district where Dénia´s sailors used to lo live. It has several charming squares: "Plaza San Antoni", "Mariana Pineda" or "La Creu" with many terraces to have a nice meal (serving fish specialities). At la plaza "La Creu" you will find the Playmobil sculpture that commemorates the 50th anniversary of the film "El Capitán Jones" in Dénia. It is one of the most popular pictures taken in the city.
Night life is concentrated in "Calle La Mar" and el puerto. Practise Spanish while you socialize. If you´re reading this during 2020 summer, do it with caution and taking the recommended health measures.
Have a cup of coffee by the sea
Coffee tastes better if it´s accompanied with good views. It can look like a simple pleasure but it´s not within the reach of all. We suggest having it at Helios or in Mena´s restaurant.
Dénia is a coastal town, so a visit to the beach seems way to obvious, but it´s important you know that our beach is so extensive that you will enjoy your own space and relax yourself sunbathing, reading, taking a swim or just walking on the shores.
Dénia holds the Montgó Natural Park, with more than 750m height where hiking routes can be carried out (different levels). A popular one is the one that goes until la "Cova de l´Aigua" or until the peak. You will fall in love with the sea views and the city from the highest point of the mountain.
Take a bike ride through la 'Vía Verde'
La Vía Verde is a 6,5 km route between Dénia and the neighbour town, El Verger. This road is crossed by many runners, cyclists or hikers. It is surrounded by orange trees. If you go during the spring months, you will see blossoming orange trees.
La Cova Tallada is a marine cave excavated by the sea and it´s one of the most beautiful spots you´ll find in Dénia. You can get there on a hiking route along the coast or by kayak. We recommend that, if you have enough time, go to la Cova twice, both in kayak and on foot.
Once you´re at la Cova, you can snorkel since marine life is very rich around this cave.
Visit the island of Ibiza
From Dénia harbour you can take a direct ferry to Balearic Islands. If you come to Dénia to learn Spanish, you can seize the opportunity and spend a few days in Ibiza. There are even one day excursions and you can also visit Formentera with the shipping company Baleària.
Relax at the "chiringuito"
If you´re not only learning Spanish, but also on holidays, you will probably need some chill and relax time. In Dénia there are various chiringuitos where you can take a soda or a cocktail while you listen to nice music. These chiringuitos are on the beach or in some other corners very close to the sea. We suggest "Zensa" which is in a privileged spot at the maritime harbour, with swimming pool, sofas and a chill out area, or "Puro Beach", an exclusive chill out bar in Les Marines beach.
Please, if you come to Dénia during 2020, bear in mind the health recommendations in order to protect yourself and others. Dénia is a safe city but we all need to contribute to keep it that way.
We truly hope these tips about what to do in Dénia help you to take the most of your stay. You will learn Spanish in a dream destination with lots to do and enjoy.