Dénia, destination to study Spanish and eat well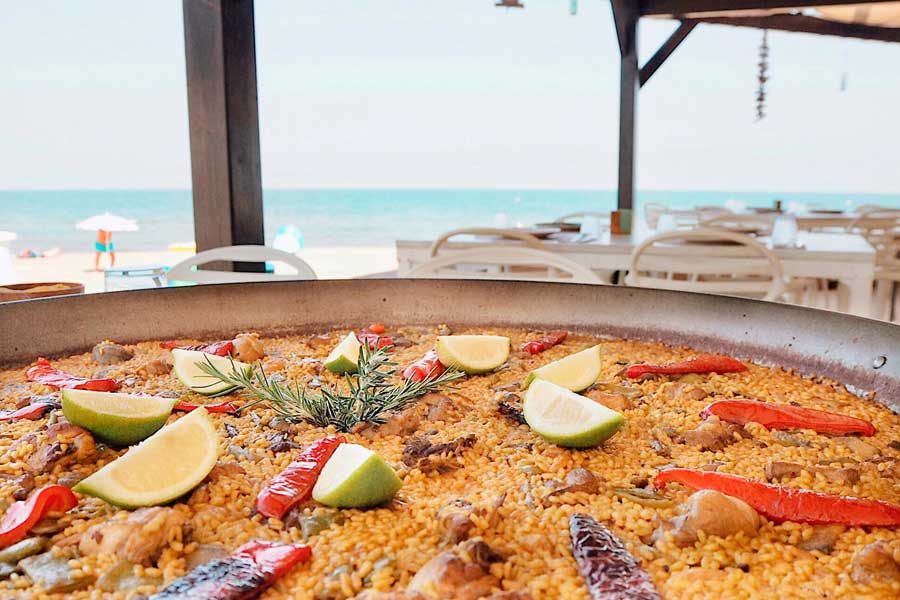 TLCdénia has benn here for more than 30 years and more than 15 receiving foreign tourists who come to Dénia to learn Spanish with our Intensive courses.
When a foreigner decides to come to study Spanish in Spain to do a program of linguistic and cultural immersion, they have at their disposal an innumerable range of destinations throughout the country, with great diversity and attractiveness. The first reason why they come to Spain is their love for the Spanish and Spanish culture. (In addition to other reasons that you can read in our article: Why do you learn Spanish? The 12 most curious answers).
They come to do an immersion course in Spanish, but at the same time, they look for a place to live new experiences and in Dénia, what seduces them enormously is the gastronomy.
Dénia has been, since 2015, Creative City of Gastronomy by UNESCO and this is a deserved recognition thanks to the passion for cooking and the great professionals of the city.
Our students recognize that gastronomy is a great point in Denia's favor when choosing a destination to learn Spanish, as well as the charm of the city, its temperature, its mountains and its beaches.
Denia's gastronomy is part of our students' day
During the Spanish course in Dénia, gastronomy is an important part of the stays of our students. So much so, that at the school, a large part of the activities we organize for them, are gastronomic. Here you can see some examples with photos:
VISITS TO THE MARKET
Interest in the local product and traditional cuisine makes a visit with to the municipal market of Dénia a must. There you can see the richness of our products and the importance of promoting the local product.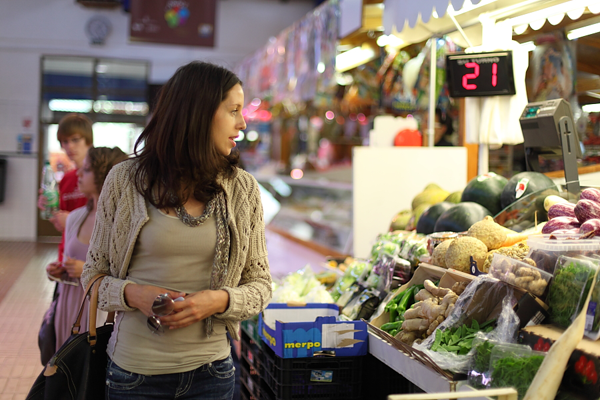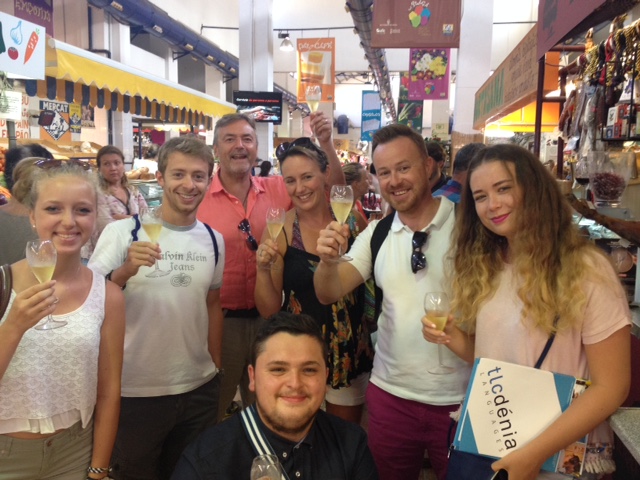 VISITS TO THE LONJA
At the fish market they can enjoy the traditional fishing concept and watch as the boats arrive to the coast, they prepare the fish, they carry out the auction and afterwards, buy fish to cook at home. Most of the students show great curiosity about our fish recipes and the monitor, who accompanies this activity, is in charge of recommending a recipe for them to do at home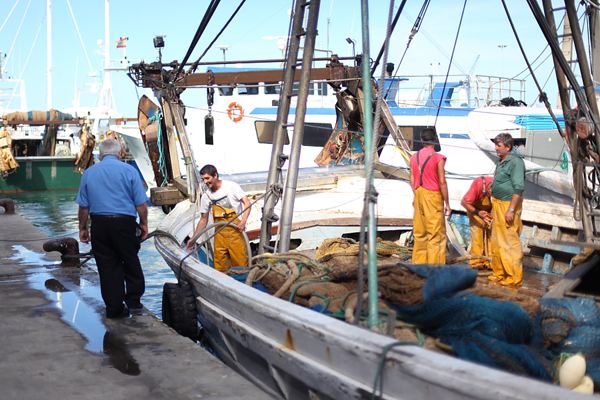 WE'RE GOING FOR TAPAS
A regular activity after Spanish class, is to reward students for their work with a session of tapas. It is an ideal way for students to get to know each other, interact with teachers outside of class and also try new tapas. For students who have not tried tapas, it is quite surprising that we eat as many different dishes as an appetizer and share them together. Yes, they love it and they repeat it many time! In addition, they always find the tapas routes organized in Dénia very good.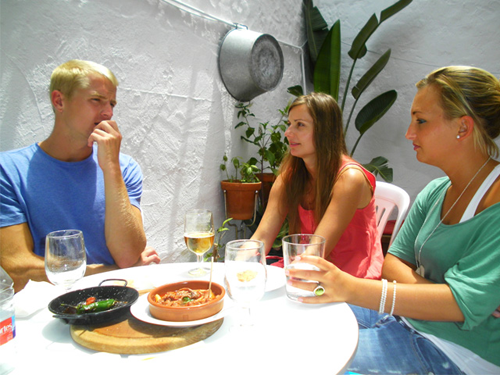 WE TRY "SPOON PLATES"
During the month of November many restaurants in Dénia organize the "Mes de la cuchara" (Month of the spoon). We promote it among our students and we go with them to try different hot dishes which can be eaten with a spoon, which go down very well in winter.
This picture is of two students with Jessica (our Spanish teacher) when they tasted a sweet rice in the month of the spoon.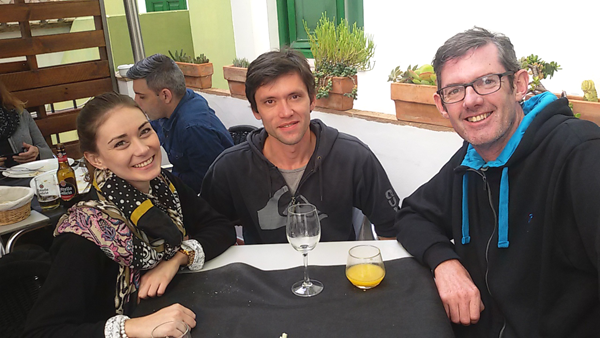 MEALS OR DINNERS IN RESTAURANTS
The meals and dinners at TLCdénia are very interesting, especially in summer. In these meetings not only students of Spanish meet up, but also Spaniards students who come to Dénia to do an intensive English course. In this way, Spaniards help foreigners with their Spanish and foreigners help them with their English. A very enriching experience that you always remember! For example, at the dinner in which these two young people in the photo were, there were more than 10 nationalities at the same table.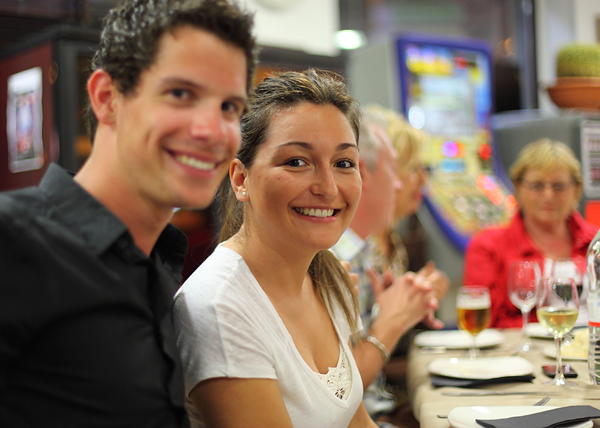 PAELLA WORKSHOP
Our paella workshop is a traditional activity at TLCdénia. We do it between 3 and 5 times a year and call it "Carmen's paella", since it is Carmen, the mother of the director, who is in charge of cooking and teaching the students the technique so that it is perfect. Before the paella, sometimes we also do a theoretical class with the recipe of paella.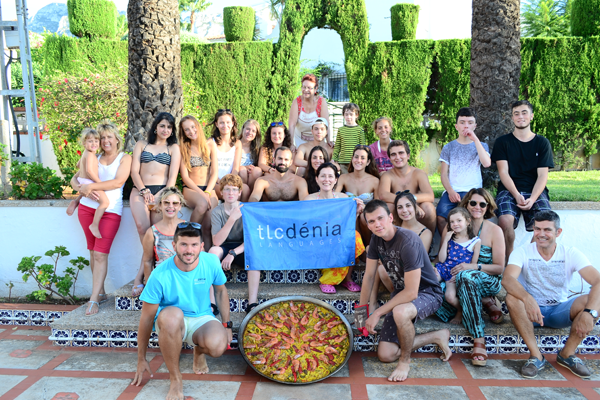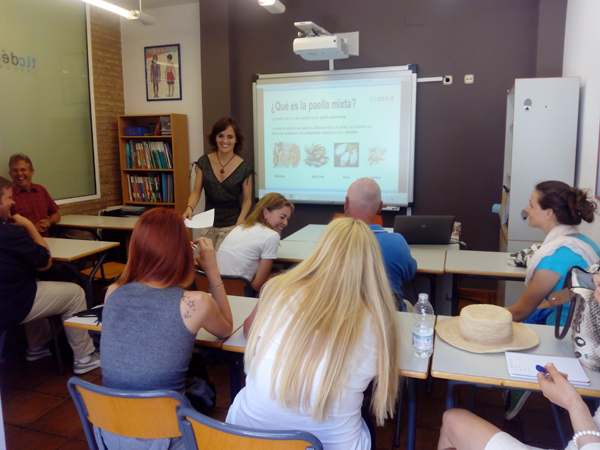 WORKSHOP OF POTATO OMELETTE
In this workshop we teach our students how to cook "tortilla de patatas" (or 'Spanish omelette' as students usually call it). The tortilla is an ideal recipe for any meal with friends or family and that is why they learn to cook it to make it in their countries when they return. And they look good!


TASTING OF SPANISH WINES AND WINES OF THE REGION
In the TLCdénia team we have good wine connoisseurs and that is why we organize a wine tasting workshop. First we explain the importance of the wines, their types and their production, the importance of the D.O. (Denomination of Origin) and then we play a small game where we guess what each wine has.

VISITS TO BODEGAS: MOSCATEL WINE
Muscatel wine has a special character and great importance in the area. Therefore, we recommend organized visits to wineries to the students, such as the one organized by Experiència Mediterrània in Benitatxell.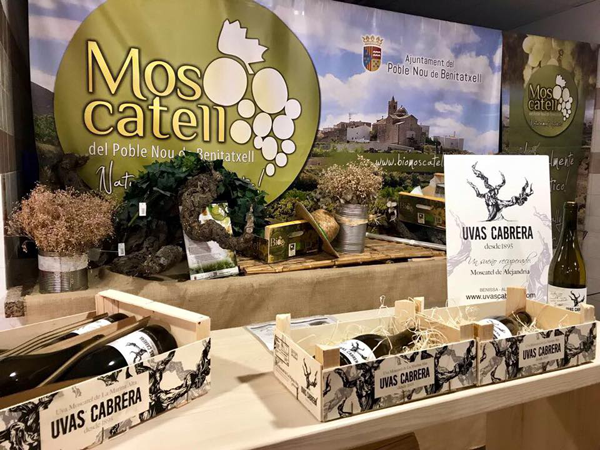 VALOR CHOCOLATE SHOP
The churros con chocolate are internationally known and many students want to try them during their stay in Spain. We are lucky to have Valor chocolate (from Villajoyosa), which we can enjoy in Dénia in one of its coffee shops. Many times we take children who learn Spanish at school.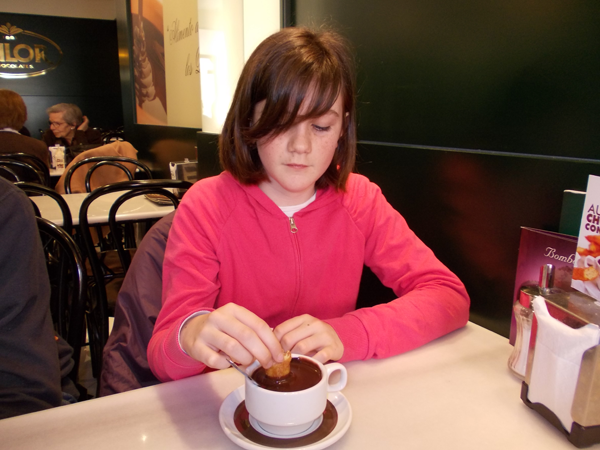 VISITS TO THE CDT (TOURIST CENTER):
Besides knowing how to cook typical dishes and rice dishes in the area, students like to see how good professionals cook them. Lately we take the school groups to see the chefs in the CDT (Centro de Turismo) programs in action (especially the boys of the Alternanza Scuola Lavoro, Italian programme for highschool students).

INTERNATIONAL COMPETITION GAMBA ROJA DE DÉNIA
Every year the International Contest of the Red Shrimp is celebrated in Dénia and in TLCdénia we organize an activity to go all together after class. In this event you can see gastronomic professionals cooking the Gamba de Dénia in different and original ways.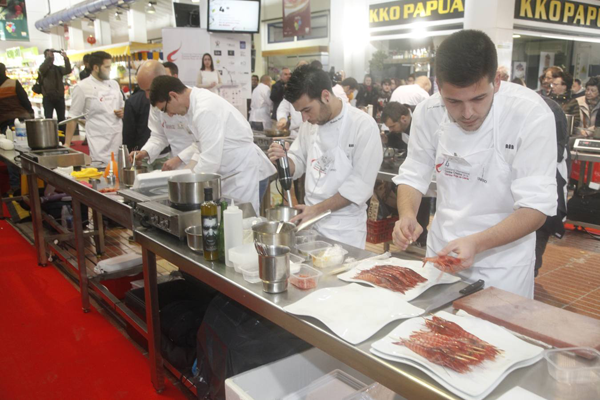 In addition to these activities, the students themselves recognize that, during their free time, one of their favorite activities is to try new restaurants in Dénia. Every Monday in class the teachers ask how their weekend has gone and the food they have tasted ends up being a great topic of conversation. Or even, many dare with new recipes at home.
Our students are fortunate not only to learn the language and culture, but also to experience quality cuisine with local products, increasingly professional and recognized worldwide.
In Dénia one can learn Spanish, eat good dishes, enjoy an idyllic temperature, go hiking, cycling, water sports, cultural activities, enjoy their parties.
Better, experience it yourself!