Best place to learn Spanish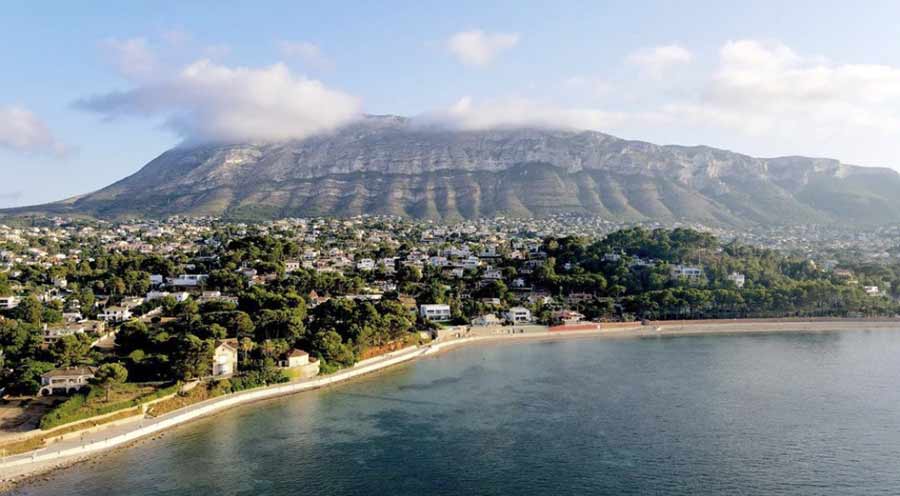 If you want to learn Spanish in Spain, Denia is the best place to go!
Denia is one of the most beautiful towns in 'La Costa Blanca', where the temperatures are mild and the sun is present almost all year long. Apart from an inviting climate, Denia holds 20 km  of beaches, both sandy and rocky, with enigmatic marine caves to explore that make it the perfect place for a family vacation.
This captivating city is placed in a strategic point, just between Valencia and Alicante, with both airports only one hour away, a great advantage since you´ll be able to land either in one or the other and look for the schedule and prize that suits you the most.
Furthermore, in 2015, it was recognized as the gastronomic capital of de Mediterranean by UNESCO. Although Denia´s cuisine is excellent and well-known, it´s not everything the town has to offer. Tourism from all over the world has always been present in Denia due to its climate, amazing beaches and the endless summer feeling it conveys. Thus, it is the ideal place to spend quality time with the whole family.
The town is placed right between the sea and the Montgó, a majestic mountain which shields it from inclement conditions. Due to that, the weather is mild and pleasant throughout the year. The average temperature in Denia is 18.3°C and the average sea temperature during the summer months (July-September) ranges between 25-26°C. Pre and post high season (June and October) hold lovely temperatures as well: 22°C, and even in the coldest winter months it rates between 14-18°C.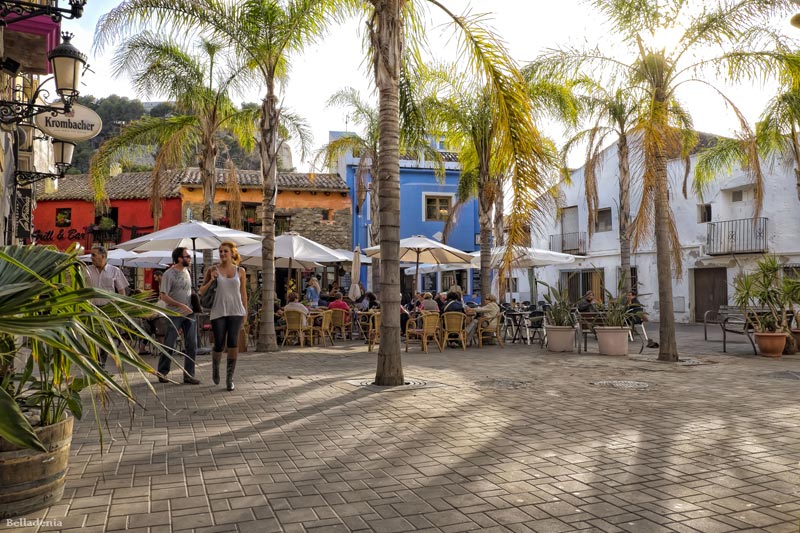 Best place to learn Spanish by the coast…
Thanks to its extensive coastline, here in Denia you will never find yourself struggling to find a spot in an over-crowded beach. And not only that, you will be able to choose between the soft sandy beaches in Les Marines (north) and the natural rocky bays in Les Rotes (south). Denia´s beaches have won the Blue Flag award and all of them count with international acknowledgement certificates for their environmental quality. In addition, main beaches hold access for disabled people.
Learn Spanish with an amazing climate…
Learn Spanish in Spain with an average temperature of 11°C during the winter and 25°C in the summer months, Denia holds a mild weather throughout the year. If we combine this with the refreshing breeze that blows during the summer, you´ll find yourself delighted, energized and in a much better mood to enjoy your holiday.
Learn Spanish in a natural environment…
Denia isn´t only known by its dazzling shores, but also by its impressive mountain. If the striking beauty of our beaches isn´t just enough for you, then Montgo´s Natural Park will sure delight you. The Montgó is one of the best locations to explore in Denia; its trails and rocky roads are perfect for hiking and cycling enthusiasts.
Learn Spanish in a place with many festivities…
Denia is one of the most festive towns in Spain and two of the most famous ones take place during the summer months. You can learn Spanish in Spain during the next 'fiestas':
Fiestas de Denia. These are the patronal fiestas, celebrated from the 5th to the 13th of July, known for the Bous a la mar (bulls to the sea), a fiesta of national touristic interest.
Moros y Cristianos. Muslims and Christians fiesta takes place from the 13th to the 16th of August and offers unforgettable acts such as performances of the Muslim´s Landing in Spain, the battle of the Castle and the Street Procession.
To top it all off, from the 15th to the 19th of March we also celebrate Las Fallas, where the streets of Denia become outstanding art museums. On the last night of fiestas, all of the monuments are burned with astonishing fireworks you shouldn´t miss. Learn Spanish in Spain can be very fun!
Learn Spanish in a place with a rich culture…
Denia is loaded with lots of marvelous stories and places to discover and explore such as the historic Castle, which dates back to the 12th century and represents an example of the cultural historic richness of the city. In the summer, seize the days with the guided tours the city has to offer, such as: Denia Milenaria, the theatrical tour of the castle: Historias del Castillo or the night tour: Noches del Castillo. Do not hesitate and deepen yourself into the secret parts of our history.
Learn Spanish in a placed with a recognized gastronomy…
We are proud to offer you an internationally claimed gastronomic experience in Denia. You can expect to discover a variety of fresh seafood, local quality products that exemplify the richness of the Mediterranean Diet. Denia has become more and more important during the last years thanks to its cuisine, and because of this raising importance, the city has been awarded with UNESCO´s award for its Gastronomic Creativity. Learn Spanish in Spain while you eat amazing food!
Learn Spanish while practicing water sports…
Whether you are a skilled water sports enthusiast or a rookie one, Denia has a lot to offer you. The wind in the city is perfect to practice sports such as kitesurf, windsurf, etc.
Two of the most popular sports are sailing and also motorboating and it presents a great location for diving and other water sports such as water-skiing or kayaking.
If you learn Spanish in Spain you will enjoy mountain biking, golf and hiking are also easy to practice thanks to its outstanding natural park.
Learn Spanish in a place with kind locals…
You must have heard that Spanish people´s character is very welcoming and friendly and it´s absolutely true. In addition, our lifestyle attracts many people from all over the world and our wonderful weather allows us to enjoy our spare time outdoors. Learn Spanish in Spain is great because socializing is key for Spaniards, either in bars or restaurants, and of course, enjoying quality dishes and tapas is a must in our culture!