Spanish vocabulary: in the restaurant
If you want to go for a meal in Spain or an Hispanic country you should be able to speak with the waiter. This vocabulary and conversation in Spanish will help you to manage in a restaurant.
SPANISH VOCABULARY TO ORDER IN A RESTAURANT: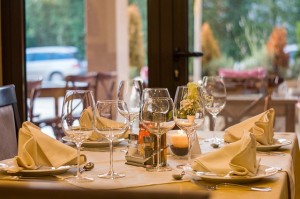 SPANISH VOCABULARY:
Carta/ menú – Menu
Cuenta – Bill
Desayuno – Breakfast
Comida- Lunch
Cena – Dinner
Entrante – Starter/ Appetizer
Plato Principal – Main dish
Postre – Dessert
Camarero/a – waiter/ waitress
Pollo – Chicken
Ternera- Beef
Pescado – Fish
Ensalada – Salad
Verdura – Vegetables
Pan – Bread
Arroz – Rice
Té – Tea
Agua – Water
Cerveza – Beer
Vino tinto/ blanco – Red/ white wine
Sal – Salt
Pimienta – Pepper
USEFUL PHRASES IN SPANISH:
Una mesa para cuatro, por favor. – A table for four people, please.
Quiero reservar una mesa para 2 a las 9. – I would like to book a table for 2 at 9 o'clock.
¿Tiene alguna mesa para esta noche? – Have you got any tables for this evening?
¿Me permite ver el menú, por favor? – Can I look at the menu, please?
Disculpe camarero – Excuse me, waiter
¿Que quiere para beber? – What would you like to drink?
¿Tiene platos vegetarianos? – Do you have any vegetarian dishes?
Quiero … . – I want … .
Ya he acabado. – I'm finished.
¡Muy rico! – It was delicious.
La cuenta, por favor. – The bill, please.
¿Cuánto es? – How much is it?
Download these pictures with a basic conversation in Spanish in the restaurant and vocabulary about the table: