Language learning as a family in Denia, Valencia
Although summer is soon to arrive and with it our long-awaited holidays, there is always a part of us that wants to make the most of the time we have. Being near the beach is of the utmost importance for most families during the summer period and it is often what governs the final choice of destination.

Year in, year out Denia is a holiday hotspot and TLCdénia bares witness to the needs of so many families who are committed to learning and improving their Spanish or English, while enjoying their dream holiday.
The summer star attraction at TLCdénia is our Spanish courses for families in Denia (Spain) in which parents and children have the opportunity to learn at the same time. Parents take part in the adult language classes and children enjoy a special programme that combines Spanish or English lessons with fun activities (sports, art workshops, cultural excursions, crafts, etc.) or a sailing course. Schedules are organized so that the entire family have the same study and leisure time, enabling them to participate in the extracurricular activities arranged by the school for the rest of the day.                  
Our students do not have to worry about filling their free time as the various programmes provided by TLCdénia cover all tastes and preferences. Denia caters for those who want a beach holiday and also for those who prefer the countryside, thanks to impressive Montgo mountain.
This local beautyspot  has many different trekking routes which go all over the natural park, which is home to more than 650 plant species. TLCdénia organizes excursions for the whole family to enjoy.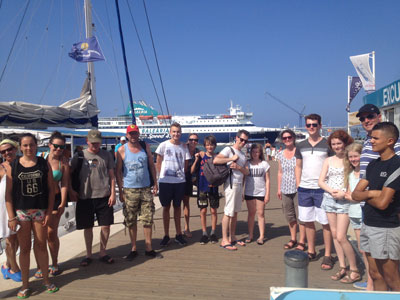 The various different types of beaches at Denia help to set it part from its coastal neighbours: calm waters, beaches with winds perfect for water sports and others with stunning views. All of this enables the students at TLCdénia to experience new activities such as paddle surfing, sailing, travelling by catamaran, etc.
Without a shadow of doubt Denia is the perfect destination for both you and your family, so why not get in touch with us? TLCdénia , where your holiday includes language classes, accommodation, leisure activities and much, much more.
We hope to see you soon!