Spanish Course Gift Card: Great Present!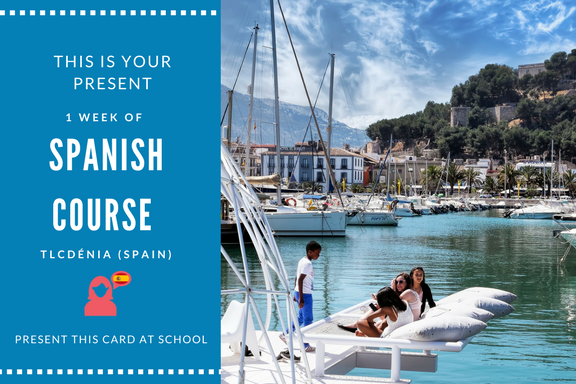 Some perfume, a piece of clothing, a box of chocolates, a photo frame … Sometimes it seems like we tend to always give the same for Christmas. Do you need a good idea? Give an Intensive Spanish course in Denia gift card. Learning is the best investment!
GIVE LEARNING: IT IS THE BEST GIFT!
Give a Spanish intensive course (and accommodation if needed).
Our Spanish courses: We offer courses from beginners levels to advanced Spanish. They are intensive courses from Monday to Friday. Usually in the mornings. Our lessons are based on the communicative method working on all the skills of Spanish: listening, speaking, reading and writing, but the most important is that the student speak fluently and are able to understand real Spanish. You can check our Intensive Spanish courses here
IF THE PERSON CANNOT COME TO DENIA…GIVE HIM/HER SPANISH ONLINE LESSONS!
If the person cannot come to Denia to study everyday, we also offer online Spanish lessons. Students can learn Spanish with our teachers from everywhere. We offer General Spanish, Spanish to travel Business Spanish, Spanish conversation: Check our Online Spanish courses here
Our accommodations in Denia: you can choose a flatshared very close to school, an apartment in city centre or an aparment by the sea. All are great accommodations where students enjoy their stay. You can see some pictures of our accommodation for students here. Check our accommodation prices in Denia via next links: flatshared, beach apartment, apartment in town
Our destination: Do you know Denia? If not, you are missing a great city on the Mediterranean coast. It is between Alicante and Valencia (both airports are perfect to go to Denia). Denia is Creative City of Gastronomy and that is why we have so many amazing restaurants around. Also we have a Natural Park called Montgó (perfect for hiking lovers) and great cycling routes. We have 20 kilometres of coast with rocky and sandy beaches).
We will prepare a Spanish Course Gift Card to surprise that person.
They will love this gift and wil definitely be left speechless!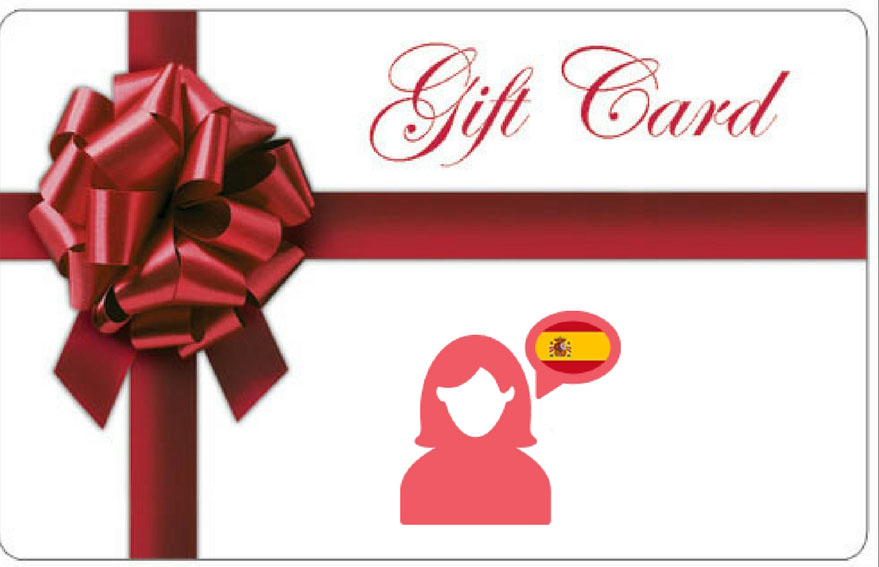 If you want to give a course of Spanish in Denia, we will prepare a GIFT CARD GIFT ENGLISH in Dénia on behalf of the person who receives the gift, with the dates that suit you.
Contact us at info@tlcdenia.es

EXAMPLE OF A SPANISH COURSE GIFT CARD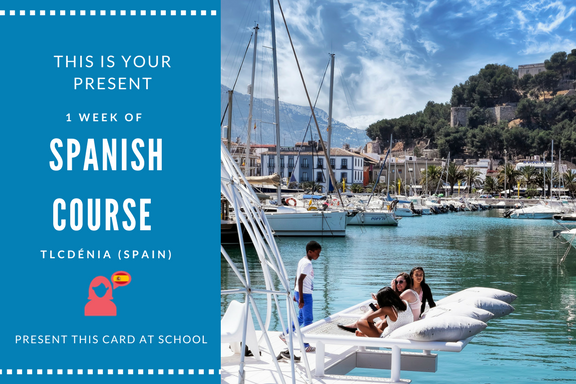 By giving this awesome gift that will impress everyone, you will be the star of the show!