"We are making a lot of progress in Spanish": Abdel and Sabrina, 6-month course with accommodation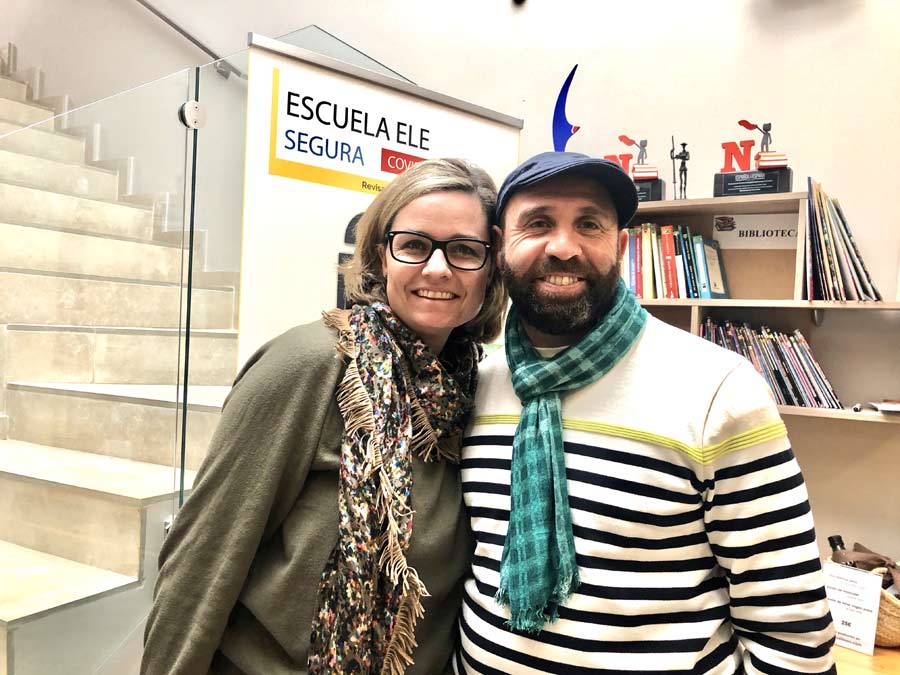 Abdel and Sabrina are TLCdénia students, they are from Switzerland, they are taking a 6-month intensive Spanish course and they are staying in a school apartment in the city. They themselves tell how their Spanish immersion experience is going in Dénia.
We are a married couple and we really like to travel and learn languages. In recent years we always went on vacation to Spain. We have visited different areas of Spain. The Valencia area is our favorite.
What do you think of TLCdénia?
We like TLCdénia a lot, we are very happy here. The school is very well organized and there is a very friendly, committed and open team. The class methodology is modern, varied and we love them. TLCdénia is in a very central location and during breaks you can enjoy it on the beautiful terrace. There are offers of classes for all tastes. We have decided to have the class in the morning and that is ideal for us.
Why did you choose Dénia to learn Spanish?
When we were on vacation in Gandía, we had the idea of ​​studying Spanish here for a few months. During the holidays we looked for a language school in this area and when we came across TLCdénia, we contacted the school and Mari Carmen, the director, invited us to visit the school. After the visit excited and more motivated to plan our stay in Dénia. Then the Covid arrived and we had to wait patiently, but for it was clear that we wanted to go to Dénia. When TLCdenia told us that the school was open and that there were classes, we definitely organized the six-month stay and since January 2021 we are in Dénia. Our apartment is 10 minutes walk from the school, we have been able to rent it very simply and without problems with TLCdénia.
How do you feel studying at school during the pandemic? It is safe?
Great, that we can get to school and enjoy face-to-face education. We greatly appreciate personal contact. With a mask, thermometry and hygienic measures followed accordingly, keep our distance, we feel safe. Of course, a shame, that currently you can not carry out activities.
How is your progress in Spanish?
With our progress in Spanish we are happy. Speaking is more difficult for us but at least we are able to carry on a conversation on different topics with simple words. We try to speak Spanish on all occasions, in supermarkets and stores, in restaurants or at school. Sometimes it happens that between us we speak Spanish too. We are glad of our progress.
What future plans do you have after achieving a high intermediate level in TLCdénia?
In any case we have to bring home a Spanish diploma. Well, we think it's good for the future. In TLCdénia there is the possibility of taking exams recognized all over the world. We still do not have plans for the future, we want to enjoy the period in Dénia, life here and learn the language. And we may move to Spain!