Find out more about our Spanish courses in Spain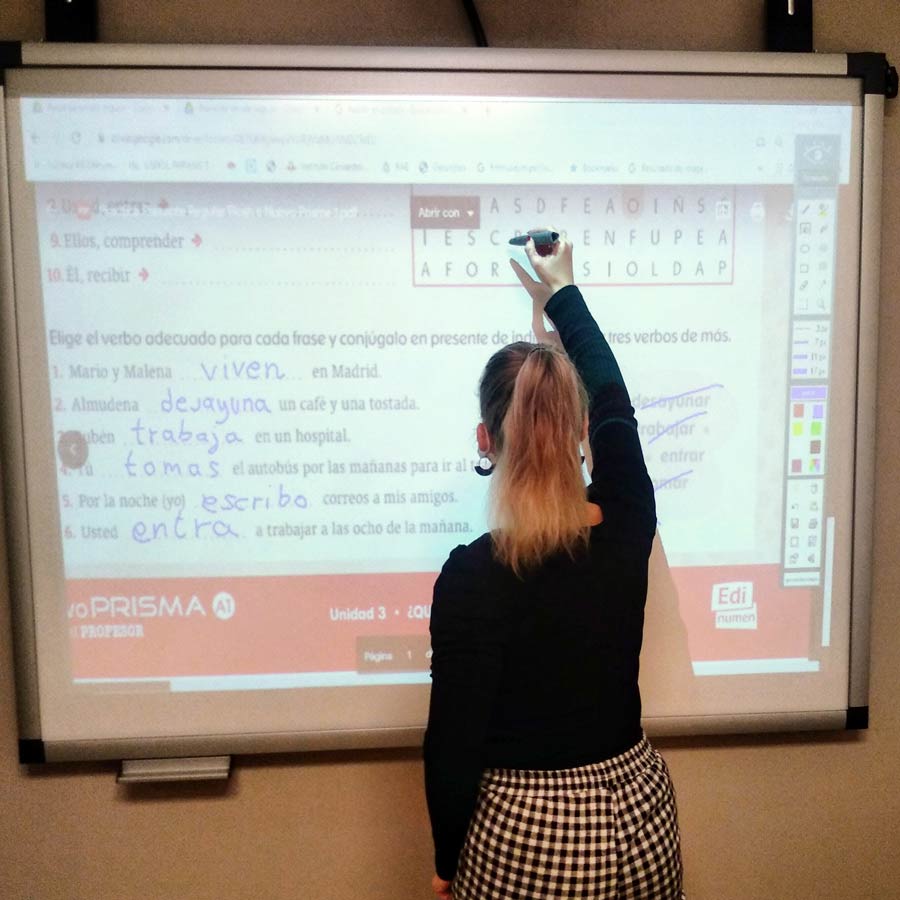 TLCdénia's Spanish courses in Spain are the best way to combine a unique holiday discovering the culture and lifestyle so characteristic of the country, and learning the language, one of the most widely spoken in the world.
Spain is a country of happy and open-minded people, with well-differentiated attributes in the different cities. With our Spanish courses in Spain you will discover the incredible location of the city, in the Costa Blanca. With a study trip, you can take the opportunity to learn Spanish and at the same time, live an unforgettable experience. You will get to know the Spanish culture, its customs and its way of life. These, together with its official language, diverse and charming settings, a Mediterranean climate and its rich cultural heritage, will be waiting for you in Spain, the ideal destination to study Spanish.
Our aim is to help you learn Spanish in the best possible way during your stay in Spain, while also doing everything in our power to ensure that you enjoy the experience of doing a Spanish course.
Our students come to Spain from all over the world, with different needs and interests. Therefore, we offer a wide variety of courses and levels. We are sure to have the right course for you too.
Our Spanish courses in Spain
With our courses, the Mediterranean coast is waiting for you. With a Spanish course in Spain you will soak up the language, the culture, get to know the Spanish mentality, visit amazing places and meet people from all over the world. Choose your ideal destination and come and learn Spanish!
The approach to teaching is modern and communicative; that is, students learn Spanish because they use it in class, not because they study it passively. Above all, we want our courses to provide the theoretical knowledge of Spanish, but also for students to acquire the ability to put it into practice, to use the language, to understand it and to be able to express themselves fluently with it. Our team of enthusiastic and highly motivated teachers will do their best to ensure that you have a truly effective, yet fun, learning experience.
For students needing accommodation, we offer shared flats, private studios, student residences and host families that are carefully selected by the schools. A wide variety of options for you to choose from. We recommend accommodation with families as the best way to learn Spanish, as with them you will be able to practice what you study in class.
What makes Spanish courses in Spain so special?
Spain is an incredible, varied and wonderful country. With TLCdénia's Spanish courses you can learn in the cradle of the language, immerse yourself in the culture, soak up the Spanish character, enjoy its gastronomy, surround yourself with its people, its customs and way of life, and the riches of the country. You will live unique experiences discovering the cultural diversity of the Iberian Peninsula. You will discover a great country while enjoying unforgettable holidays and improving your professional training.
Spanish has become the second most widely learned language in the world after English, with more than 500 million people speaking it. The official language of 21 countries and various international organizations, Spanish will open many doors for you in the world of work. Come and discover for yourself all the advantages of our Spanish courses in Spain!
Do you have any questions, or would you like personalized advice?
We are at your disposal from Monday to Friday  by phone or you can also write us an email, we will be happy to help you with your travel needs!