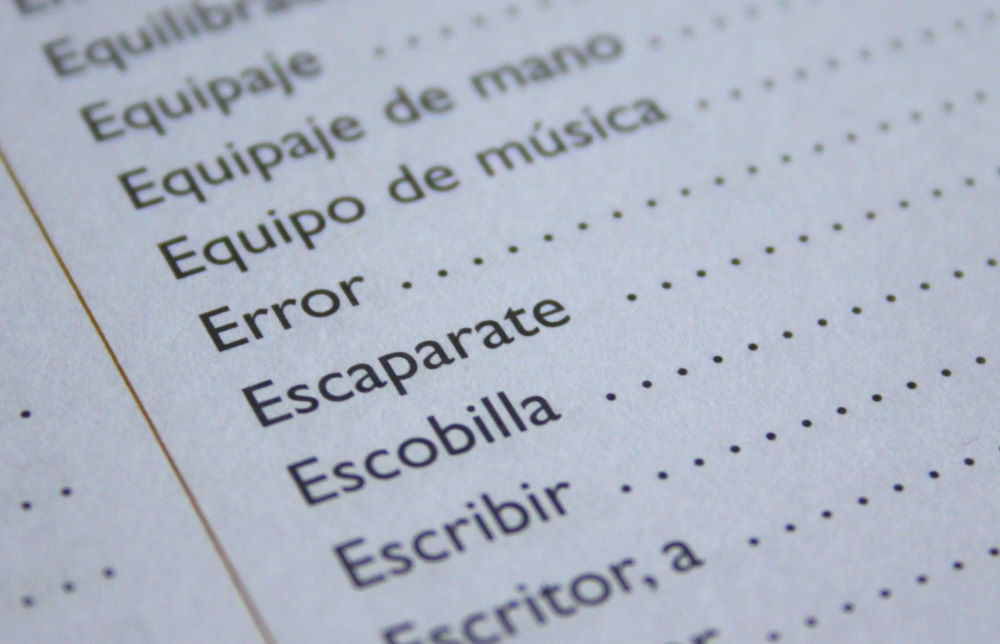 7 Tips for Memorizing Spanish Vocabulary
When we learn a new language, the main objective is to be able to speak and interact with others, and this is done by memorizing phrases and vocabulary. Remembering everything we learn is the challenge for every student. Fortunately, studying with a teacher will facilitate your learning process. This is because it will allow you to learn Spanish step by step, showing you the steps to follow so that you can be really productive. Be sure to check our Spanish courses in Spain!
In this article we have listed the most useful tips for memorizing Spanish vocabulary, for all those who want to improve their oral and written expression and pronunciation.
Make a world for yourself in Spanish
It may sound strange, but this is what will help you most in memorizing Spanish vocabulary. Ask yourself: how did you mother tongue? By seeing, listening, imitating. The best way to learn a new language is to integrate it into our daily reality. Our whole world and the content we consume must be related to that language.
How can this be achieved? By paying attention to our behavior on social networks, for example. If you spend a lot of time on Instagram, starting to follow Spanish accounts will help you to become familiar with the language, its pronunciation, its writing, and will allow you to acquire simple and common phrases for everyday use.
Netflix is a good option!
Did you know that you can learn Spanish with Netflix? It's one of the coolest ways to learn a language. Watching a movie on Netflix can really help you memorize vocabulary and get familiar with commonly used words and expressions.
How do you do it? We advise you, depending on your level, to choose a film in Spanish and add Spanish subtitles. If you are just starting out, use subtitles in your language and if you feel more confident, switch to Spanish subtitles (as soon as possible!). The point of this exercise is that you can work on your listening skills.
The alternative of reading
The magic of books is that they make our imagination work. Reading allows the brain to visualize these sometimes new words and to memorize them more quickly. However, we don't recommend reading a 2000 page book to start with!
Here are 3 books that might help you:
"El principito", by Antoine de Saint Exupéry: this is one of the most famous books in history and is full of memorable phrases and simple vocabulary. Practice reading it in Spanish. The story is simple, you will associate words and sentences very easily.
"Harry Potter", J.K. Rowling: The advantage of reading these books in Spanish is that the level increases as you go along. So the first one will normally be a bit easier than the following ones. However, these books are aimed at readers with an intermediate level.
"Cien años de soledad", Gabriel García Márquez: the level of difficulty is quite high and we would only recommend this book for people with an advanced level of Spanish. The story is set in Colombia and is rich in unusual and fantastic situations.
Go back to your childhood!
One of the best tips for memorizing more Spanish vocabulary is to consume children's content. They are designed to be easy to understand for beginners like you who are learning to speak (even if it's a new language in your case). Why for children? They have a simple vocabulary, use uncomplicated conjugations and will help you to understand how people interact with each other and how their conversations unfold. There are mini-series with episodes between 5 and 10 minutes long, perfect for understanding and learning in a minimum of time.
Start translating as much as possible
This is a classic memorization tip, but it's terribly effective. Look around at the things you use the most and learn how to translate them into Spanish. This will increase your vocabulary and allow you to practice regularly.
Looking for a plate? In Spanish it's called a "plato". Do you want a shirt? In Spanish it's una "camisa". Try to do this in several different areas, it will increase your vocabulary.
Listen to music in Spanish
Have you ever listened to songs that stick in your memory? You remember the tune and the lyrics without even thinking about it; wouldn't it be great if this could happen to us when learning a language? Giving a melody to a word will help you memorize it faster. If there are songs that you like in Spanish, take the opportunity to listen to them several times, so that you learn the words without even realizing it.
Speaking Spanish without fear of making mistakes
If you are learning Spanish, don't hesitate to practice with other students or your teacher. Don't be afraid to make mistakes! The idea is to speak as much as possible and even if you make a mistake, you will learn. Learning from your mistakes has never made more sense than when learning a language. When you are with your friends and family, take the opportunity to teach them new words, maybe they can challenge you with words you don't know.
When you talk to your teacher and also to Spanish people, pay attention to the way they speak, their expressions, their gestures. All this is part of learning a language.
We all learn by imitating, repeating, making mistakes. The idea is to try to learn a little bit every day and to try to retain the vocabulary used in everyday life.
Did you like these tips? Would you like to travel to Spain to learn Spanish? We encourage you to come and discover our Spanish courses in Spain, you won't regret it!