"The school is flexible and adapts to new situations"
1. Who are you? Please, introduce yourselves!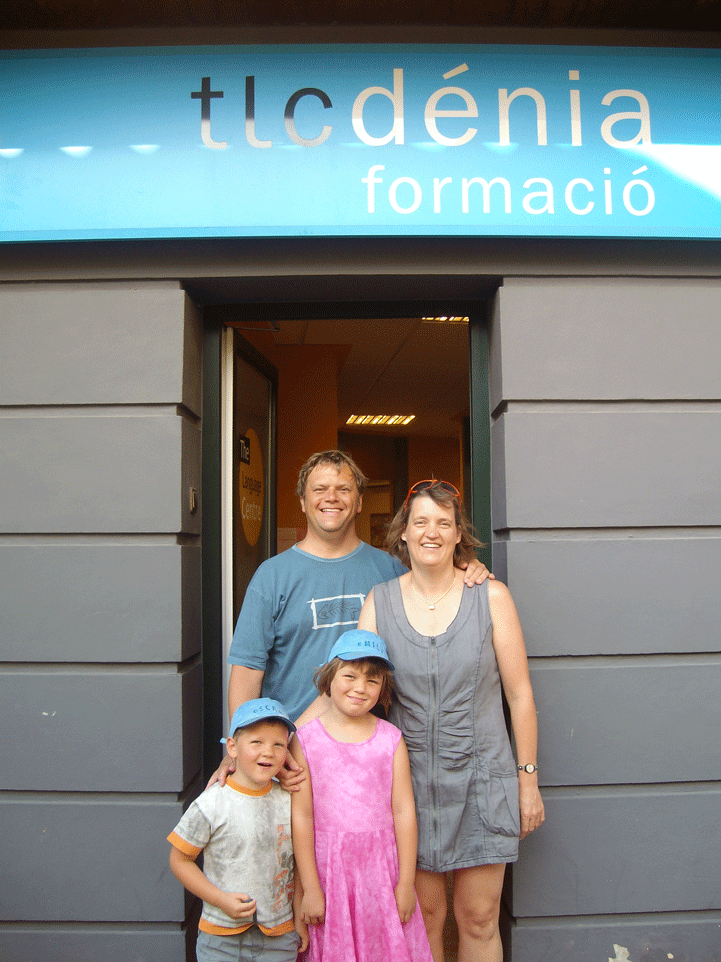 Andrew: We are the Morris-Spaeth family from Munich. I am Andrew, the father, there is Martina, the mother, and our two children Oscar, 6, and Emily, 8. Oscar is starting elemantary school in September and Emily will enter third grade. I am (Andrew) from London, England, and I have been living in Munich for ten years.
2. Why did you decide on taking a Spanish language course in your holidays?
Oscar: Because I want to learn Spanish!!
Martina: We have been going to Spain for holidays for many years (Mallorca) and both children have been interested in learning Spanish so this year we decided that we could try and participate in a Spanish course. It is our first one abroad. Our kids have attended some kindergarden spanish courses in Munich ( organized by the Instituto Cervantes).
Therefore we already had an idea of what it would be like learning Spanish in a course environment.
My personal reason for doing this was that it's very hot in August, when we go on holidays and I liked the idea of spending part of the day in climatized rooms. I didn't want my family to spend the whole day on the beach because it might be too boring and even bad for your health.
It seemed a perfect way to combine a relaxing beach holiday and studying Spanish. We would not have to cut back on our beach holidays, because we still have enough time to go to the beach. Even Oscar doesn't feel he's being deprived of his swimming-pool time!
3. Why did you choose TLC Dénia and how did you learn about our school?
We found Easy Sprachreisen on the internet, it is an agency which organizes language holidays.
When we learned about Dénia as one possible place to go to Spanish classes, we looked it up on the internet becuase we wanted to inquire about special courses for kids. We learned that Dénia was one of the only places that offer children courses (for children as young as Oscar is). So we decided against other places and came here. It reassured us that the school is certified by the Instituto Cervantes.
Also, Dénia seemed more family orientated than other cities that offered kids courses, like Valencia or San Sebastián. And it turned out to be the right decision. Everything is in walking distance and it is a beautiful little town with nice beaches.
4. What expectations did you have before you came to Dénia?
We were prepared to be flexible. If the children hadn't liked the course, we could have arranged something else because we thought that the school would be flexible too. We were confident that for our family the stay in the private apartment with swimming pool and the beach within 300 m would be a success in any case. We were a little bit nervous about the course, but not really worried because we knew it would still be a good beach holiday. Which is why we chose the apartment ourselves instead of booking it together with the course to make sure we would be close enough to the beach and the school.
5. How do you like the program for children that the school offers?
Emily: Yes, I like it.
Oscar: Yes, I like it, too.
Martina & Andrew: We also like that there are Spanish children learning English in the school. What Emily and Oscar liked very much is that they could write down things and that it was a little bit more advanced than what they both did in kindergarten. They learned whole sentences and phrases and not only words. They liked it very much. And knowing that the children were taken care of while we were spending time in class ourselves was also very good. We could relax completely in class.
6. What do you like best at our school and the organization?
Oscar: I like the Spanish course!
Andrew: I like that the school is flexible and adapts to new situations because I am an absolute beginner and the school was able to fit me in with private lessons despite it being a busy week.
Martina: I am happy with my class: There were not too many students (between 6-8) and what I like is that they actually adapted the content of the course when we expressed our wishes to do more newspaper articles, poems or songs. We ended up moving away from difficult grammar to literature, which for me has been very satisfying.
The flexibility of the teachers is very good, they try to accomodate our wishes.
Emily: They try to make you happy.
7. What could be improved?
I have the feeling that the school is reaching its limits, but it might be a phenomenon of the month of August. Maybe if we had wanted some more private teaching it would have been difficult to organize because all the teachers seemed to be working long hours. But that's all.
8. Would you recommend TLC Dénia as a special package for families?
We would. We actually know quite a few people that are interested in our feedback…
9. How do you like the town and the tourist programm it offers? Would you like to add anything more?
We love the town and we are so happy to be in a small version of a typical Spanish town. It has a main street, a covered market, very nice shops and shop owners, very friendly people. We love that we can walk across the center of the town in 30 minutes. We also like the activities that the school offers. As a family we cannot participate in everything but you also offer going to the beach which is great to meet new people and children.
It would be nice for the kids to listen to some Spanish songs, but we understand that you cannot do everything. And I am happy that Emily started conjugating verbs and Oscar is learning many new things as well.