Spanish for Children (Option B) (8-13 years old)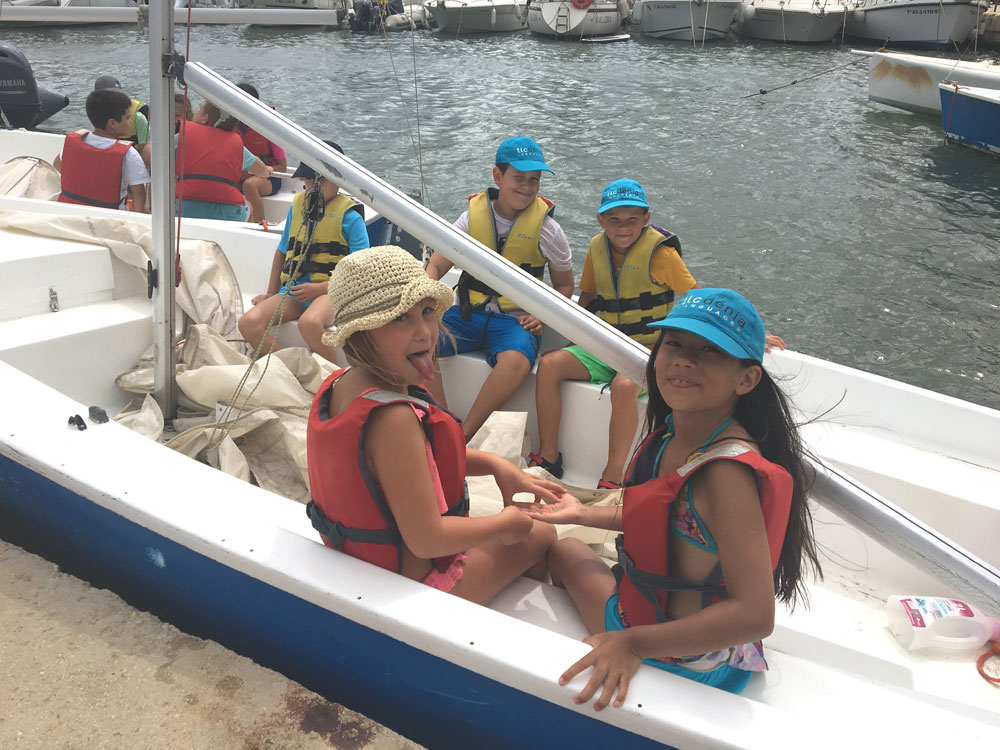 SPANISH FOR CHILDREN – OPTION B (From 8 to 13 years old)
---
Nº of lessons: 2 Spanish lessons + break + 2 sailing lessons
Schedule: from Monday to Friday from 9.30am to 2.00pm
Nº of students per class: 12 maximum
Starting dates: this programme takes place from 29th June to 21st August 2020. Children can start any Monday (booking in advance).
---
COURSE DESCRIPTION:
Children learn Spanish inside and outside the classroom. This course consists of 2 Spanish lessons + break + 2 sailing lessons in the Nautic Club.
For children who have a taste for doing lots of different things, this is the course we recommend. Dénia has always had strong links with the Mediterranean. All necessary equipment will be provided by the school. Children learn all the basics of sailing: rigging, launching, manoeuvring, handling, coming to shore, boat care and storage as well as rules of safety.
THIS PROGRAMME INCLUDES:
Language course material
Transfer to the sailing club. (Parents need to pick up the kids at 2pm at the sailing club.)
Sailing equipment
Certificate and federation license
Accident insurance.
Certificate of attendance
Welcome pack
Daily snack during the course break.
WHAT TO BRING:
High-protection Sunscreen
Swim suit
Water shoes
Towel
Changing clothes
Course Features
Lectures

0

Quizzes

0

Duration

Starts every week

Skill level

A1-C2

Language

Spanish

Students

1

Assessments

Yes
PRICES SPANISH FOR CHILDREN COCKTAIL B (8-13 YEARS OLD)
Spanish for children Cocktail B (8-13)
1 week = 260€
2 weeks = 500€
3 weeks = 710€
4 weeks = 920€
More info
+ 40€ registration fee
COURSE STARTING DATES:
This programme takes place from 29th June to 21st August 2020. Children can start any Monday during that period (booking in advance).
*Holidays conditions:
The School is closed on national and local bank holidays. Classes that would have been given will be partly made up over the course of the week. The School is closed for holidays from 25th December 2020 to 6th January. Spanish courses will start on 11th January 2021 but school will be open from the 7th January.

COURSE METHODOLOGY:
The basis of our methodology is communication. Our objective is that the student will be able to use the new knowledge in the correct way. In view of this, as well as studying grammatical structures and linguistics, we stress the necessity of achieving communicative competence.
Our methods for teaching Spanish courses to foreigners are structured for various levels to meet the requirements of the European Common Framework. Our goal is to give students the strategies and necessary know-how to cope in a Spanish environment by being able to communicate.
Encouraging our children to learn Spanish and making it easy for them is one of the biggest gifts we can give them. It's a fact that knowing more than one language opens plenty of doors, not only work-wise, but also socially, mentally and culturally. Some benefits of learning a language at an early age are better linguistic skills (ever heard of children referred to as "sponges"?), higher academic achievement and cognitive benefits such as enhanced creativity, better critical thinking and problem solving skills, among others.