Spanish for Children (Option A)(5-10 years old)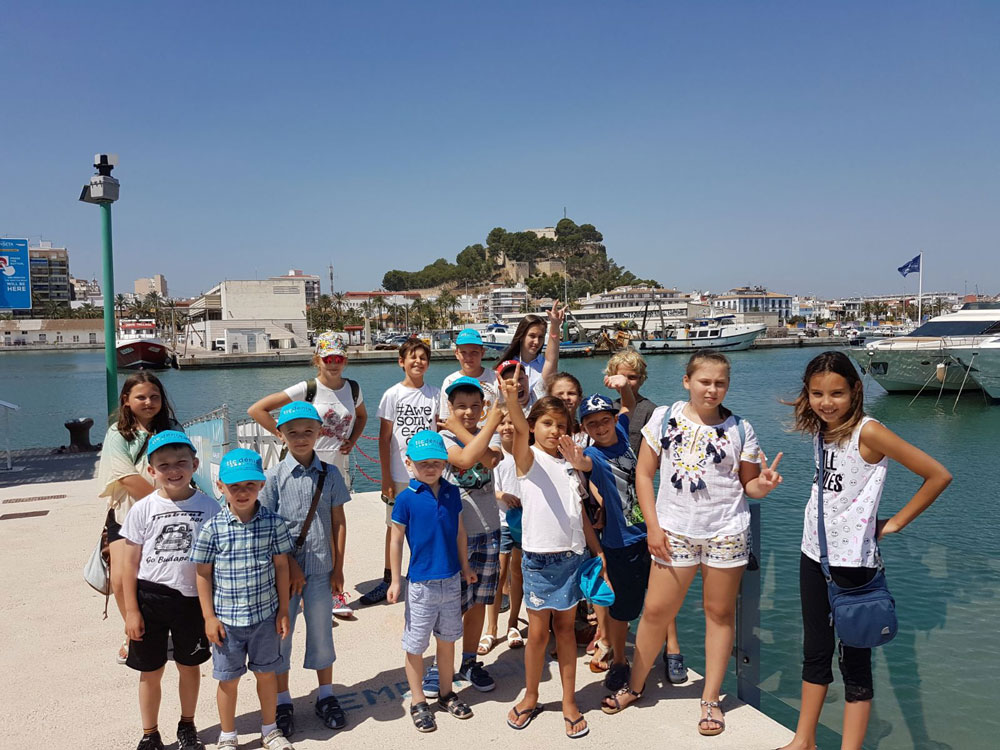 SPANISH FOR CHILDREN – OPTION A (From 5 to 10 years old)
---
Nº of lessons: 20 lessons per week. 1 lesson = 45 minutes
Schedule: from Monday to Friday from 9.30am to 12.45pm
Nº of students: 12 maximum
Starting dates: this programme takes place from 7th June to 20th August 2021. Children can start any Monday (booking in advance).
---
COURSE DESCRIPTION:
Children learn Spanish inside and outside the classroom. This course consists of 2 Spanish lessons + break + 2 activities lessons (arts and crafts workshops, excursions and games).
During the second part, we organize a wide range of activities to practice the language and get to know Dénia. While these activities, they learn vocabulary, expressions and listen to the teachers in Spanish instructions and participate in games. We usually have the teacher with a member of the staff helping in class.
THIS PROGRAMME INCLUDES:
Materials (books, photocopies, craft material and tools).
Transfer to and from the craft workshop and excursion venues.
Certificate of attendance.
Welcome pack
Daily snack during the course break.
Course Features
Lectures

0

Quizzes

0

Duration

Starts every week

Skill level

A1-C2

Language

Spanish

Students

1

Assessments

Yes
PRICES SPANISH FOR CHILDREN COCKTAIL A (5-10 YEARS OLD)
Spanish for children Cocktail A (5-10)
1 week = 175€
2 weeks = 320€
3 weeks = 450€
4 weeks = 580€
More info
+ 40€ registration fee
COURSE STARTING DATES:
This programme takes place from 7th June to 20th August 2021. Children can start any Monday (booking in advance).
SCHOOL HOLIDAYS - NO LESSONS*
JANUARY - 6
FEBRUARY - none
MARCH - 19
APRIL - 2 / 5
MAY - none
JUNE - 24
JULY - 7
AUGUST - 16
SEPTEMBER - none
OCTOBER - 12
NOVEMBER - 1
DECEMBER - 6
Holidays conditions: The School is closed on national and local bank holidays. Classes that would have been given will be partly made up over the course of the week. The School is closed for holidays from 20th to 31th December 2021.
BOOK THIS COURSE
COURSE METHODOLOGY:
Encouraging teens to learn Spanish and making it easy for them is one of the biggest gifts we can give them. It's a fact that knowing more than one language opens plenty of doors, not only work-wise, but also socially, mentally and culturally. Some benefits of learning a language at an early age are better linguistic skills (ever heard of children referred to as "sponges"?), higher academic achievement and cognitive benefits such as enhanced creativity, better critical thinking and problem solving skills, among others.
Children and teenagers are in a key period of their lives in which learning a language results much more natural to them. They are like "sponges" and are therefore able to absorb the knowledge of a new language extremely fast.
Learning a language has many cognitive benefits for them: it develops their creativity, their critical thinking, problem solving and their written and oral expression.
Younger kids start to formulate their first sentences through games and crafts, as they learn by imitation. Teenagers learn Spanish in a dynamic way, not only with academic exercises but with dynamic interactive activities: role-playing, project creation, debates, etc. Research shows that knowing more than one language opens many doors, not only professionally but also personally and cognitively.