At TLCdénia we are aware of the consequences of the COVID-19 pandemic caused by the spread of the SARS-CoV-2 virus. For this reason, since we reopened on June 1st, 2020 after several months with the school closed, we have adopted all the necessary sanitary measures to ensure the health of everyone in our facilities.
TLCdénia has strict sanitary requirements as requested by the protocol of FEDELE (Federation of Schools of Spanish as a Foreign Language) following the specifications as proposed by the ICTE (Institute of Spanish Tourism Quality) that has created sanitary quality standards to avoid infections among the staff and students. Thanks to adapting to this protocol, the school is certified as a "Safe ELE School". You can check it here: FEDELE Safe Spanish schools.
WE ARE 'SAFE SPANISH SCHOOL' CERTIFIED BY FEDELE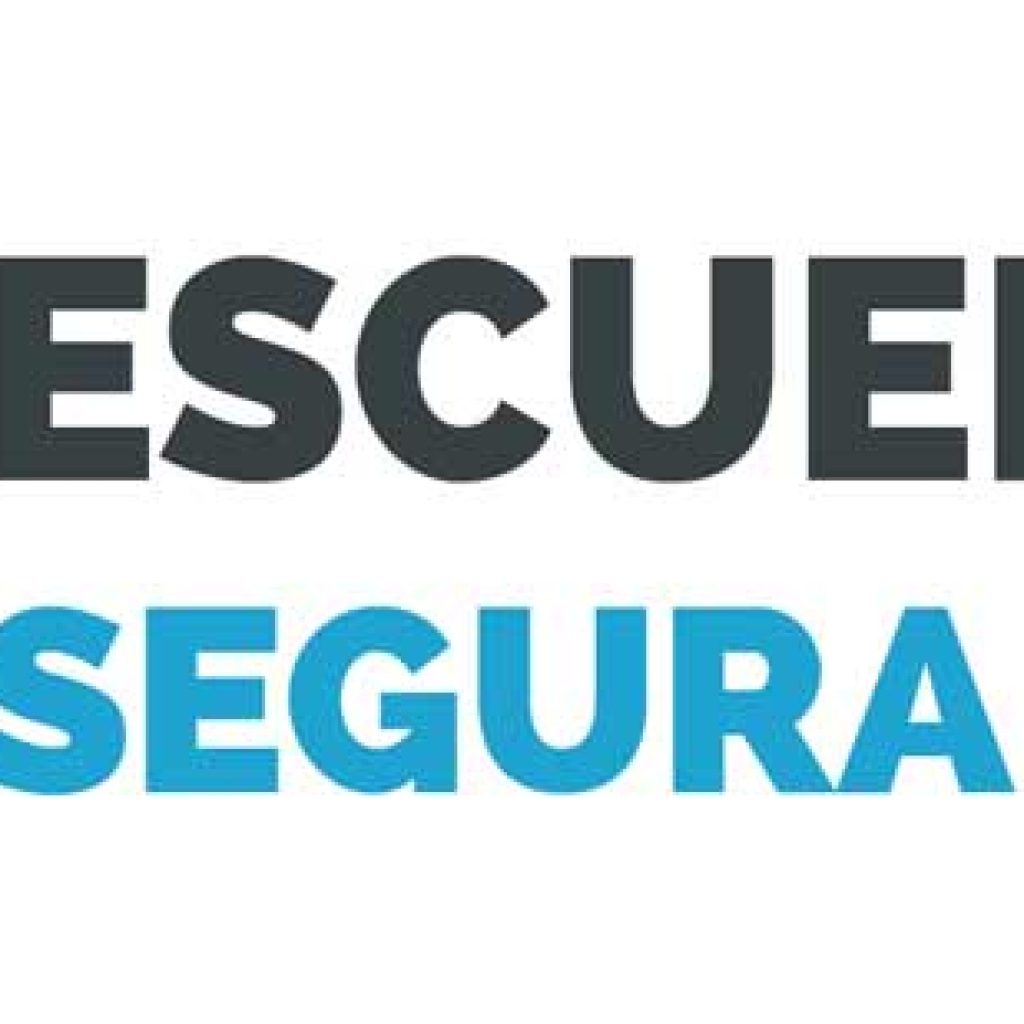 WHAT ARE THE SECURITY MEASURES IN TLCDÉNIA?
The schools that have the Escuela ELE Segura certificate have a Contingency Plan adapted to the actions and recommendations present in the dossier of measures and certification of FEDELE, as well as it is complemented with their own internal protocols, according to the specific measures of each autonomous community.
The most prominent measures are:
At TLCdénia we use hydroalcoholic gel before entering school
We disinfect the classroom before and after each class
The wearing of masks is mandatory within the facilities
We measure the temperature of students and teachers every day before entering class
The safety distance in classrooms is respected with limited capacity
Each certified school has a specific Contingency Plan to increase security in its facilities. Each school has its own specific guidelines and plans for each of its activities such as field trips and exams.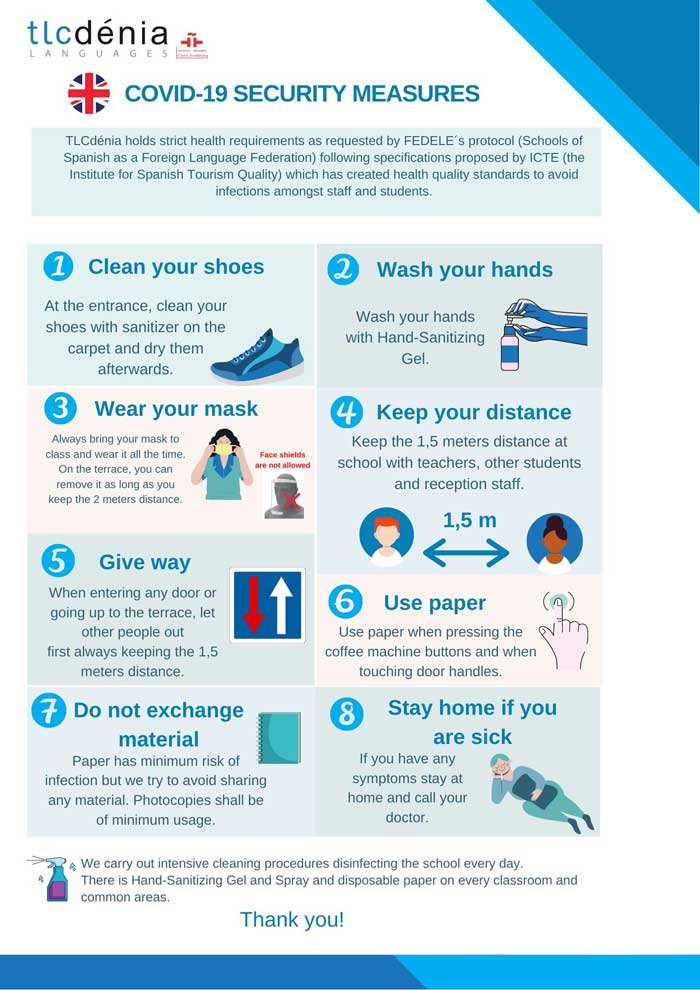 TLCdénia has the seal of "Tourism Quality Commitment" from SICTED (Integral System of Tourist Quality in Destination) accrediting and recognizing the effort made by tourism companies to ensure the quality of their services.
The Secretary of State for Tourism, through the SICTED project, supports tourism companies to adapt to the health crisis caused by COVID-19.
SICTED Advanced Good Practices were created to reduce the risk of contagion in the tourism sector. These Good Practices have been adapted from the Guidelines for reducing the risk of contagion by the SARS-CoV-19 coronavirus in the tourism sector prepared by the Secretary of State for Tourism and the Ministry of Health, in collaboration with the Institute of Tourism Quality Spanish (ICTE).
TLCdénia has implemented these practices and has also passed an external evaluation that guarantees compliance with the requirements set forth in the Advanced Good Practices SICTED COIVD-19. You can check our stamp here.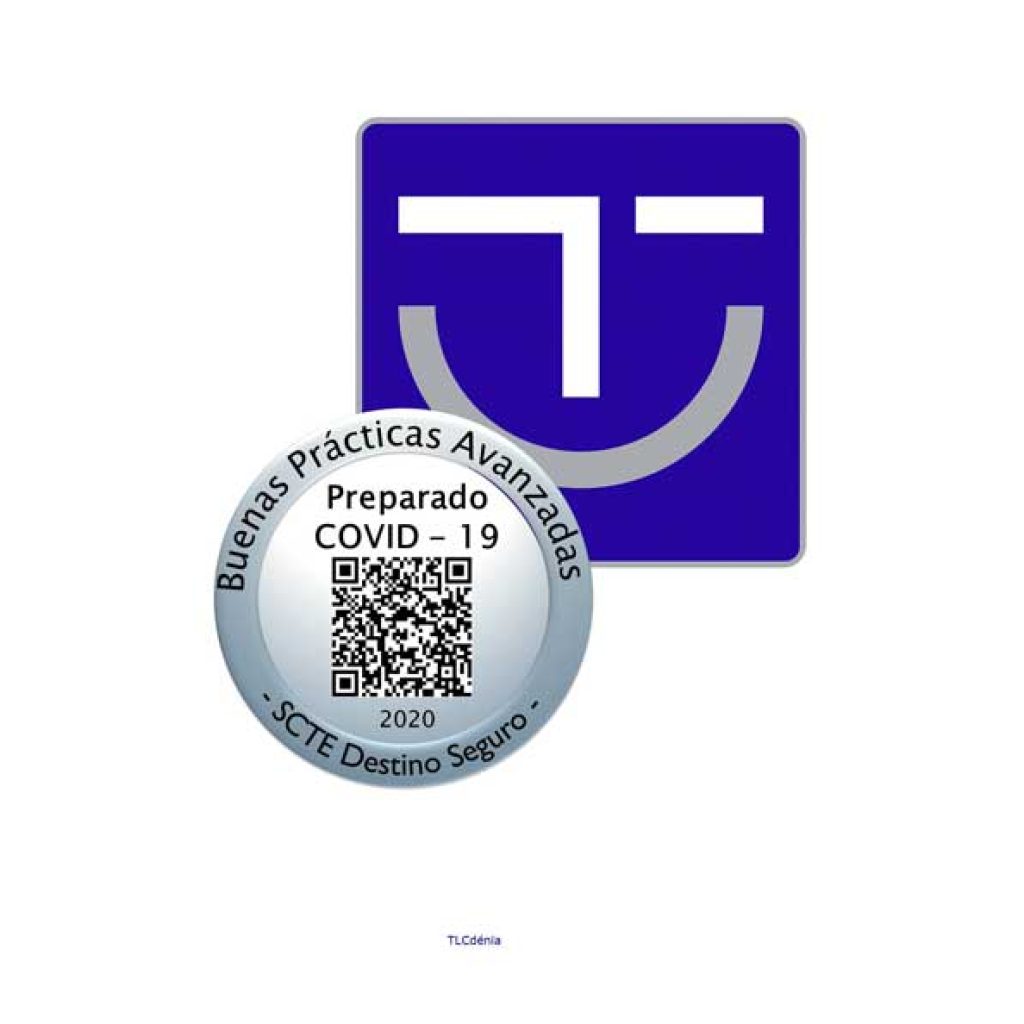 Your health is important and our priority!