Espagnol pour Adolescents Day-Camp (14-17 ans)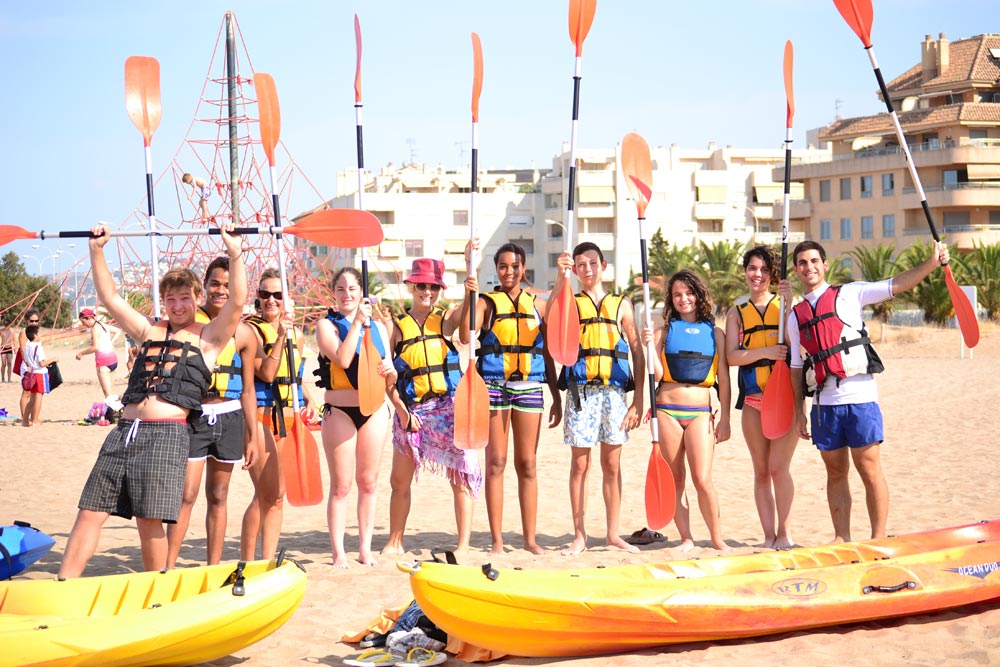 Espagnol pour Adolescents Day-Camp (14-17 ans)
---
Nº de leçons: 20 leçons par semaine. 1 leçon = 45 minutes
Horaire: de Lundi au Vendredi de 9:30 à 12:45
+ Activités quotidiennes (horaires différents)
Nº d'étudiants: 12 maximum (Moyenne 8-9)
Dates de début: ce programme se déroule du 29 juin au 21 août 2020. Les étudiants peuvent commencer n'importe quel lundi (réservation à l'avance).
---
REGARDEZ CETTE VIDÉO: TLCdénia espagnol pour les adolescents à Denia!
DESCRIPTION DU PROGRAMME:
Il s'agit d'un cours dynamique adapté aux besoins du groupe d'adolescents et il se concentre principalement sur l'augmentation de la confiance de l'élève lors de l'utilisation de la langue. En incorporant les quatre compétences linguistiques (lecture, écoute, expression orale et écrite) en classe, nous permettons à chaque élève de recevoir un enseignement complet.
During the afternoon, after eating at home, students of the Day Camp do daily activities with an activity leader of the school. We have many activities going on, including games at the beach, hiking, snorkeling, cultural visits, etc., and on weekend some excursions such as water parks, visiting other cities, among others. These activities are all included in the package.
Durant les après-midi, les élèves du Day Camp ont des activités quotidiennes comme des jeux à la plage, des randonnées, de la plongée en apnée, des visites culturelles, etc., et le week-end, des excursions telles que des parcs aquatiques, la visite des villes alentours, etc. Ces activités sont toutes incluses dans le forfait.
CE PROGRAMME COMPREND:
• Matériel de cours
• Certificat de participation.
• Pack de bienvenue
• Activités quotidiennes
• Une excursion le week-end
Course Features
Lectures

0

Quizzes

0

Duration

50 hours

Skill level

All levels

Language

English

Students

0

Assessments

Yes
ESPAGNOL POUR ADOLESCENTS DAY-CAMP (14-17 ANS)
Espagnol pour Adolescents Day-Camp
Prix pour un forfait de une à plusieurs semaines
1 semaine = 260€
2 semaines = 475€
3 semaines = 660€
4 semaines = 850€
Plus d´information
+ 40 € de frais d'inscription
DATES DE DÉBUT DES COURS:
Ce programme se déroule du 28 juin au 20 août 2021. Les étudiants peuvent commencer n'importe quel lundi (réservation à l'avance).
JANVIER - 6
FEVRIER - pas de vacances
MARS - 19
AVRIL - 2 / 5
MAI - pas de vacances
JUIN - 24
JUILLET - 7
AÔUT - 16
SEPTEMBRE - pas de vacances
OCTOBRE - 12
NOVEMBRE - 1
DECÉMBRE - 6
L'école est fermée les jours fériés nationaux et locaux. Les cours qui auraient été donnés le seront en partie au cours de la semaine. L'école est fermée pour les vacances du 25 décembre 2020 au 6 janvier. Les cours d'espagnol commenceront le 11 janvier 2021 mais l'école sera ouverte à partir du 7 janvier.
MÉTHODOLOGIE DU COURS :
Encourager les adolescents à apprendre l'espagnol est l'un des plus gros cadeaux que nous puissions leur offrir. La connaissance de plusieurs langues ouvre de nombreuses portes, non seulement sur le plan professionnel, mais aussi social, mental et culturel.
Les enfants et les adolescents se trouvent dans une période clé de leur vie où l'apprentissage d'une langue est beaucoup plus naturel pour eux. Ils sont comme des "éponges" et sont donc capables d'absorber extrêmement rapidement la connaissance d'une nouvelle langue.
L'apprentissage d'une langue présente de nombreux avantages cognitifs pour eux: il développe leur créativité, leur pensée critique, ainsi que leur expression écrite et orale.
Les jeunes enfants commencent à formuler leurs premières phrases à travers des jeux et des ateliers, en apprenant par imitation. Les adolescents apprennent l'espagnol de manière dynamique, non seulement avec des exercices académiques mais aussi avec des activités interactives: jeux de rôle, création de projets, débats, etc.